Maintaining stability, SBCC nursing program survives in-person classes
City College's School of Nursing is doing all it can to sustain in-person classes amid the pandemic with a determined faculty and upgraded simulation lab.
"In the Spring of 2020, it was as if we'd never survive," said Assistant Director of the Associate Degree in Nursing program Sara Orr. "By summer, it was like a reality shock, and we realized this was our new normal and we'd have to adapt."
Lectures are held online, but nursing students need hands-on practice.
"We're very fortunate because in some parts of the country nursing students have nowhere to work with patients," Orr said. "Some have had to cancel classes."
The U.S. had a nursing shortage even before the pandemic. Now nursing school applicants have been turned away because colleges are experiencing budget shortfalls, teachers quitting and in-person restrictions. Many hospitals won't let students in for clinical training.
But Cottage Hospital and Lompoc Valley Medical Center are welcoming City College nursing students. 
"Cottage has bent over backward to make sure the students get their hours," said Nursing Program Director Michelle Gottwald. "Without their support and collaboration, we would not be able to admit so many students."
Program Director Rosette Strandberg had to come up with a plan last spring for what they would do if they couldn't get training in a real medical facility. 
The State accepted her proposal, and the simulation lab became a central place to practice skills.
The on-campus simulation lab is where events are played out on manikins with human-like functions, offering students legitimate training.
The college recently received $110,000 from the Strong Workforce Program grant to pay salaries, hire a second lab coordinator and upgrade the lab.
"We are making it work successfully," Strandberg said. "Nurses are prepared for the unexpected."
As part of her class, Gottwald discusses what it means to be a nurse – especially during a pandemic.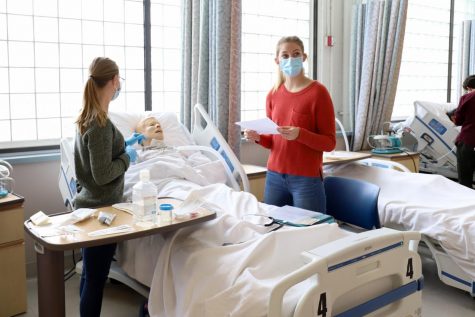 "There are sacrifices. We are exposed to things," Gottwald said. "That's the nature of nursing."
Luke Sherrill, a fourth-semester student, hasn't felt limited by the pandemic.
"Patients admitted into Cottage are tested [for COVID-19] first, so I feel safe working with them."
Fourth-semester student Miguel Zepeda misses the in-person support of the other nursing students.
"The major difficulty is not having the camaraderie," Zepeda said.
Despite the challenges, 31 students will graduate from the Associate Degree in Nursing program in May and 40 in December.
Zepeda is set to graduate in May, but like many students, he expressed uncertainty as to whether the pandemic will take another unexpected turn.
"Who knows what will happen?" Zepeda said.