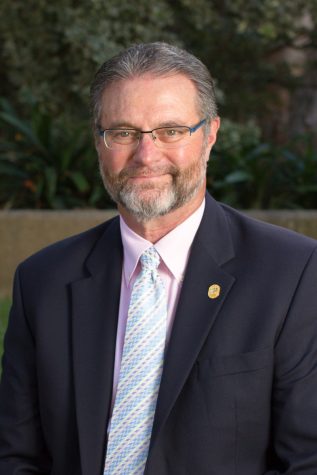 Superintendent-President Anthony Beebe sent out an unprecedented "open letter of apology" this morning in which he promised to hire a full-time Title IX officer in response to recent gender equity controversies.
"During the last several months, we have been confronted with significant issues involving, among other things, the intersection of civil rights, gender equity, academic freedom, and free speech," Beebe wrote in the letter.
"…In response, I am the first to admit that we are far from perfect. I am not perfect. Although attempting to give thoughtful consideration before making every decision, I recognize that some actions could be perceived as insensitive, uncaring, or simply wrong."
The gender equity issues erupted in March after Professor Raeanne Napoleon sent out an all-employee campus email about published sexual assault allegations against a college guest speaker. The email triggered a series of email responses and a widespread controversy about gender equity, harassment and freedom of speech on campus.
Story continues below advertisement
In addition to his apology, Beebe wrote about six solutions he intends to implement to help the college move forward, particularly around how the college handles Title IX complaints.
He wrote he will immediately begin the process of hiring a full-time Title IX Officer to process inquiries, claims, and investigations in a much more timely manner. This officer will also be responsible for a "robust, campus wide Title IX and gender equity education and training plan."
His second solution involves giving the status of all of the College's Title IX inquiries, claims, and investigations more transparency by having them posted on the college's website. This is above and beyond what is legally required.
"In my opinion, hiring a Title IX officer is misguided and not going to address the problems that have been illuminated by complainants and respondents," Napoleon said about Beebe's letter. "I've been an outspoken critic of our current Title IX officer, VP of HR MonaLisa Hasson, for many of the problems in our current system of reporting, but hiring another administrator is not what SBCC needs.
"We have procedures and policies in place now that should have addressed so much of what has happened. We don't need another administrator position, we need the current administrators to do their jobs and to follow our own policies. And they need to do their jobs without constant prodding from faculty."
Beebe also discussed concerns over personal safety on campus. He mentioned his overall pride in the way the college responded to the Montecito mudslides and the Thomas Fire earlier this year, but how it lacked in communicating with the rest of the campus and surrounding community.
He said that he has and is continuing to seek advice from the Santa Barbara Police Department, Santa Barbara Fire Department, Santa Barbara Sheriff's Department, and the Santa Barbara County District Attorney's office on how to "close the communications loop."
In his fourth solution, Beebe commended the "incredible work and dedication of the Gender Equity Workgroup," and said their discussions will continue. He suggested a President's Action Committee on Gender Equity to further the conversation.
In addition to this, he said he fully supports the College Planning Council workgroup's plan to  "develop recommendations for strategies to respond to language and actions that violate the SBCC vision statement and disrupt the campus community," and wants to incorporate it into the action plan on gender equity.
His last two solutions involve the Academic Senate and the Board of Trustees.
Beebe directed $20,000 of the Aspen Excellence funding to the Academic Senate to be spent however it sees fit in "researching, training, and developing best practices in balancing academic integrity, free speech, academic freedom, and civility."
The Board of Trustees will also be discussing what direct actions it can take on a policy level to support continued dialogue and action on gender equity and sexual harassment issues at its meeting at 4 p.m. Thursday in Administration Building Room 211. Beebe said he will share these policies following the meeting.
"These are challenging times for our College – and across our nation," Beebe said, wrapping up his letter. "My hope is that we can move forward with some positive and significant actions…This work is not easy – but it must continue."