Beebe calls emails 'embarrassing,' says he may impose limits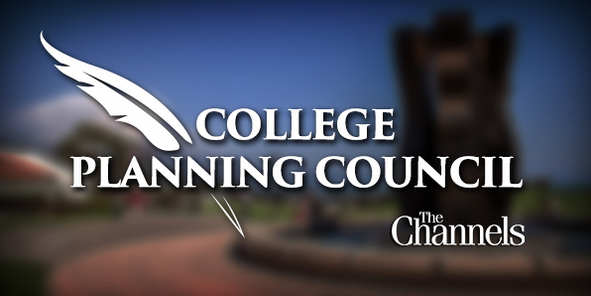 Superintendent-President Anthony Beebe announced in an email Thursday morning that the College Planning Council will discuss whether to impose limits on the use of the campus-wide email system.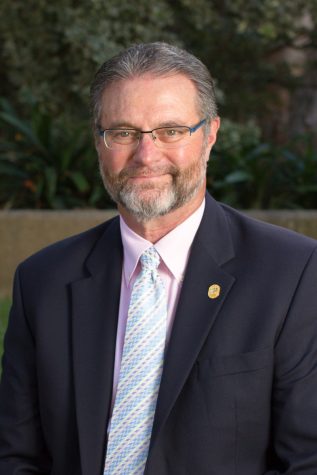 "This is our campus communications platform for related college notices, emergencies, and such," Bebee wrote. It is not 'social media' nor a place to debate topics. We have many other venues for that."
The council is set to meet 3 p.m. Tuesday, May 1, in Business-Communication Room 214 to begin discussing the issue.

"I am also gathering policies and practices from other colleges and universities related to acceptable email use, email system moderation, access, limits, sanctions," he wrote.
"In the meantime, I ask that you limit the use of this email system to college notices, emergencies, and such until we can come together on how we want this system to be used.  This is unfortunate that we have come to this, and it troubles me deeply to even have to send this email."
TWO EMAIL QUARRELS
Beebe announced his plans after two contentious debates in all-campus email chains. One, which occurred this week, was about whether law enforcement officials should attend an event in which formerly incarcerated students will discuss mass incarceration in the country.
The other followed a controversy over author Michael Shermer's March appearance on campus. Shermer made successive legal threats against the college, chemistry Professor Raeanne Napoleon, and The Channels that were also shared in the campus-wide email system.
On March 19, when Shermer was set to speak on campus, Napoleon sent an all-campus email informing the campus about published sexual harassment allegations against Shermer. The email caused a chain reaction of replies, which prompted backlash against Shermer's talk.
In the following weeks, Shermer threatened legal action, spurring Napoleon to hire an attorney and her supporters to set up a Gofundme page to help pay her legal expenses.
The events around the Shermer controversy continue to affect the college, with faculty and students voicing their disagreement about the college's lack of response to the matter.
BEEBE RESPONDS
In an April 11 email, Beebe responded to requests that he moderate discussions on the all-campus email.
"I'm not going to censor or police this all campus email," he wrote. "The entire campus, including and maybe most importantly our all campus email system, is a free speech area. As educators, we must respect and defend this free speech."
Beebe's response prompted pushback.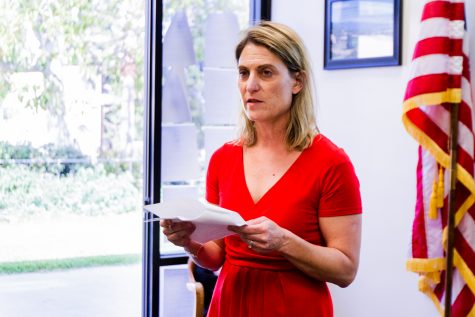 "The silence of the administration has been deafening," said Danielle Swiontek, history department chair, speaking at the Board of Trustees the next day.
"We should be able to speak out in support of colleagues and students to voice our concerns about sexual assault without fear of being bullied via email and legal threats. The administration's silence on this matter only enables this threatening and clearly unacceptable behavior."
Student senator Krystle Farmer, another speaker at the trustees' meeting on April 12, sided with Swiontek, saying Beebe should have gone further to protect women on campus.
"If you can't even stand up for [Napoleon] as a white woman, the school does not represent me as a black woman and a woman of color. Period," Farmer added.
FREE SPEECH OR HARASSMENT?
In an email interview with the Channels, Beebe wrote "The College does and will investigate claims that harassment in violation of the College's policies has occurred," citing Board Policy and Administrative Procedures 3430 and 3435, which defines what the college considers discrimination and harassment.
Beebe added, however, that he must also try to protect the college employees' First Amendment right to free speech and faculty's legally mandated academic freedom, "…even if that speech causes discomfort to members of the College community."
Referring to the legal threats Napoleon received, Beebe wrote, "This is a hugely difficult and sensitive case. Because we care, we want to get involved; however, it only adds to and compounds problems."
Napoleon was dissatisfied with Beebe's overall response to what she felt was an attack on her.
"I waited for weeks for the administration and HR to do something and say something," she wrote in an email interview. "I have been illegally retaliated against and defamed at my place of work in front of every single person I work with and there is the appearance that this doesn't matter to my employer, SBCC."
Some students are supporting Napoleon.
Melissa Cook, a member of the campus' Feminist Club, is forming a student coalition and demanding, among other things, that City College reimburse Napoleon's legal fees.