This fall City College's Alternative Transportation Plan will be offering incentives for students who use alternative transportation to get to school.
The transportation plan launched an incentive plan in January to motivate school employees to use alternative transportation to get to campus. According to the incentive plan's website school employees are eligible for a monthly financial incentive to switch from driving alone to sustainable modes of transportation.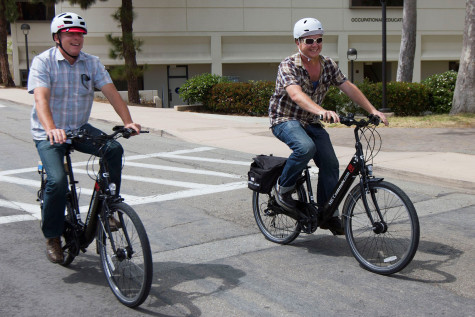 "You always get that core group that is gonna do it regardless," said Joseph Sullivan, vice president of business services. "Because they believe in the environment or they just don't want the hassle of parking and financial is just another incentive."
As of now the plan offers $2 per day for employees who use alternative transportation and up to $25 per month, but City College plans on raising that number to $30 next fall. Incentives will be offered to students in the fall through raffles for everyone who can prove they use alternative transportation.
Story continues below advertisement
On May 6 there will be a pancake breakfast and the first raffle for students that will include prizes such as gift cards or money to be put on their student I.D. card.
"We all know [Sullivan] has a bunch of ideas and plans to implement for next year," said Caleb Ransom, vice president of external affairs. "And that sounds like a great incentive for students."
As part of the plan, City College invested in five electric bikes and two hybrid cars that are available for employees to use during the day to run errands when they get to campus using alternative transportation. Employees can reserve the bikes or cars for two hours at a time during the day, but it is also available for employees to take them home with them and use them as transportation to get to and from school.
"It wasn't just taking too long to find parking and get to my office," said Alexandra Thierjung, a City College employee who has been using an electric bike quite a bit. "Using the bike was something that was just really easy."
The transportation plan urges school employees to use SmartRide to find other employees to carpool with. With SmartRide, people can find others commuting from the same area and form a carpool or search for other traffic solutions.
Nancy Tolliver, another employee who has been using the electric bikes, said she has seen many co-workers form carpool groups to get to and from school.
The program received quite a bit of funding to start with the two hybrid cars and the five electric bikes that amounted up to about $70,000 as well as opening up four bike sheds that will be open to the students this fall.
"Sometimes it just takes a little extra motivation," said Sullivan. "It'll allow us to track better who's using it."