In an attempt to tackle parking, City College has rolled out a plan to reward students for using alternative transportation.
"We have about 2500 parking spaces in total, and over 15,000 people commuting to campus," said Perrin Pellegrin, program coordinator and City College consultant.
The plan was launched as part of the SBCC Commute program, and is accessible for any students who use sustainable modes of transportation.
The different alternatives approved by the program are:
Story continues below advertisement
Carpool, vanpool, shuttle
Scooter, motorcycle
Bicycle, skate, walk
Any form of mass transit or ride share (bus, train)
"If you don't bring a single occupied vehicle to campus, so driving alone, you can participate in the program," said Pellegrin.
The program offers incentives through raffles, free pancake breakfasts and pizza parties during the semester for anyone who uses alternative transportation to reach the college. Students who carpool more than 10 times during the first eight weeks of fall semester can also have their parking permit refunded.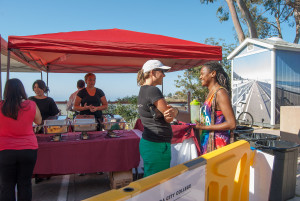 "It's another good perk for taking a friend, or an employee, or a staff member, to campus," said Pellegrin.
To be part of the program and eligible for the incentives, students must create a SmartRide account and log their daily routes to and from campus.
An account is created simply by using either a Facebook login or through email. Once the account is created, students can join City College's own network and add the two incentive plans available; student permit refund and incentive program rewards.
Besides logging trips, the application also enables students to compare various transportation choices and find carpool matches with other users.
The main reason of the launch was to reduce parking on campus, and one of the options available through the program is the City College shuttle. There are two routes to and from campus; one from the Wake Campus and one from Garden St., with several departures Monday through Thursday.
"The idea with the shuttle is to not bring cars on campus," said Pellegrin.
The shuttle enables students to park off campus and get a ride to and from school without bringing their cars.
Amanda Probst is one of the students who started using the shuttle service this semester. She learned about the program through a campus-wide email during the summer.
"I really hope [the program] catches on, because it makes my day so much easier," Probst said.
She explained that she used to drive to school before she joined the program, and often had to spend at least 30 minutes to find parking on campus.
"I would much rather spend that time waiting for the shuttle, doing homework," Probst added. "Than driving around, wasting my gas."
Kevin McClintock is one of the students who works for the college's bike shop. It is part of the commute program, and provides students and staff with a service center.
"If it wasn't for the team of people on the administration that wanted to alleviate the parking situation… then we wouldn't have had this at all," McClintock said.
He said that he was happily surprised when he first heard about the program, and thinks that it will help students with the parking problem.
For more information about SBCC Commute and SmartRide, visit their website.