Recently the 15X bus route that connects Isla Vista to City College has added three new buses this semester that are capable of holding 40 percent more students than before.
The issues of overcrowding and parking have plagued City College for years, and the bus system is one of the many resources being used to alleviate the problem of transporting roughly 3500 City College students living in Isla Vista.
"I take the bus every day," said Hayden Souza, City College student living in Tropicana Gardens in Isla Vista. "It depends on when the classes are but usually it's pretty crowded."
The new buses are under the umbrella of SBCC Commute, a program designed to facilitate student and staff transportation, as well as encourage alternative transport such as taking the bus or biking.
Story continues below advertisement
"They hold about twice the capacity of a regular bus," said Joe Sullivan, vice president of business services. "They're no longer leaving students behind at the curb like they used to."
The college also has tentative plans to implement a bike share program, which would allow students living close to campus to check out a bike to get to and from school.
"It would provide for students between here and key areas like local apartment complexes," Sullivan said.
The 15X route has seen a sharp increase in usage over the past few years, and thanks to the Transportation Development Act and the State Transit Assistance Fund, Metropolitan Transit District received the $2.2 million to purchase these new buses, which can now hold up to 112 passengers at a time.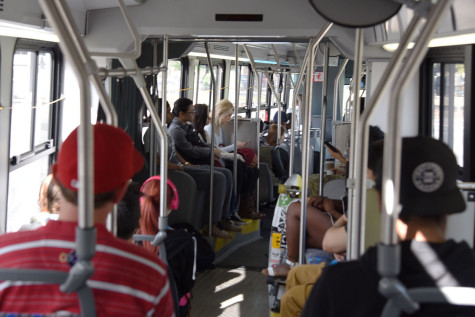 Many students that rely on the bus system to get to school from Isla Vista voiced complaints about being consistently late, with the added chance of being left behind due to overfilled capacity.
"I can't honestly tell," said Souza referring to whether or not he noticed a difference in crowds since the new buses were implemented. "It seems less busy, but then again it's still pretty bad."
The new buses articulate from the middle in an accordion fashion that allows the bus to move with the flow of traffic as the back end rotates freely from the front.
The buses still frequently fill up during the rush hour of students traveling to class, not to mention the multitudes of students driving in from neighboring cities who curse the names of the cars in front of them as they circle around the parking lot like vultures waiting to pounce on an open spot.
"People miss class or just leave because they can't find a spot," said Erle Eddy, City College student also living in Isla Vista.
The parking situation aside, the new buses encourage students in Isla Vista to ride the 15X instead of driving, both saving gas and leaving parking spaces open for students who aren't able to take the bus.
Metropolitan Transit District has no plans thus far to add more of these new 60-foot buses, although it's considering making other heavily trafficked stops longer to accommodate them in the future.