Campus email practices could improve with a few adjustments
The Channels Opinion Pages | EDITORIAL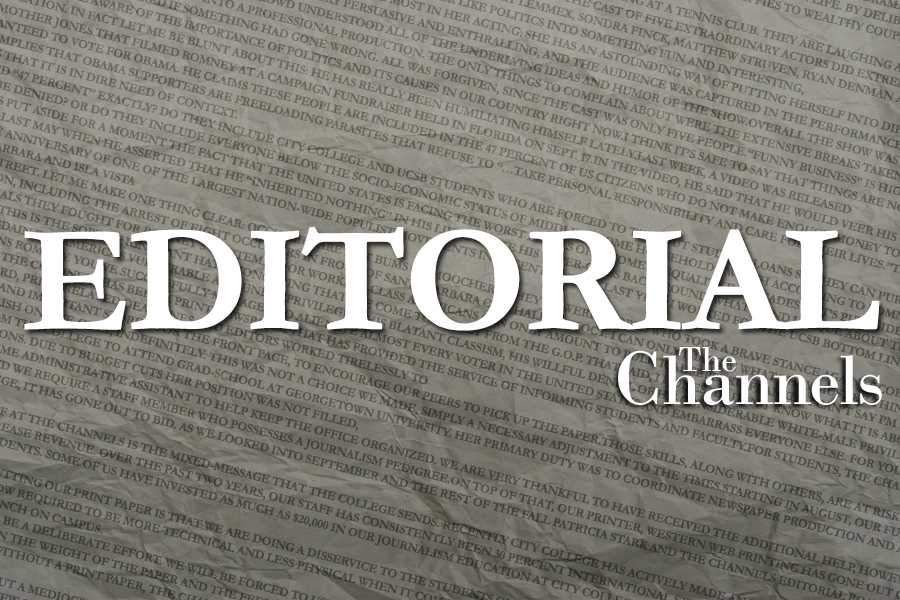 The Channels Editorial Board
May 4, 2018
With recent issues of uncivil debates on the "all campus" email and students persistently complaining about too many emails, it is clear we need some updates to our school's email systems.
City College uses three large email groups to communicate information to faculty and students: the "all student" one sent to all students, the "all faculty" one sent to all teachers, and the "all campus" group, which includes all campus employees but excludes all students except for The Channels editors so that they could stay up to speed on campus news.
The Channels editors believe the "all campus" email should be moderated, in agreement with the College Planning Council, and that other changes should be made to the system to make it clear who is receiving these "all campus" emails.
We wish this forum could be completely open, but based on recent events, that format is no longer functional in our current political climate.
With the "all campus" email devolving into debates and what some believe is harassment or hate speech, it is clear we need to regulate these emails before they are sent out to employees on campus.
The "all student" email is moderated by Luz Reyes-Martin, executive director of public affairs and communications. She reads and approves every email before it is sent out to the student body.
The same regulation would ensure civil discourse on the "all campus" email.  The Channels uses a similar system to approve comments on articles.
The Academic Senate, Board of Trustees, College Planning Council and other campus governmental bodies should come up with a set of standards for what is acceptable in the group email for the regulator to judge content on.
It is necessary to regulate the "all campus" email to prohibit the sharing of personal information and to limit employees to promoting an event in their department.
Also, the name "all campus" email can be confusing and lead to some people thinking they are sending an email to more people than they actually are.
We propose changing the name of the "all campus" email to "all employee" to be clearer about who is receiving these group emails.
The proposal for regulation is set to go before campus governing bodies in the coming weeks and expected to go to the Board of Trustees by the end of the month.
There are also issues with student Pipeline emails.
Students' Pipeline emails tend to get flooded with a lot of emails that repeat information they have already received or information which does not pertain to them.
It can be frustrating for students, especially new ones, to have to sift through so many emails to find the ones pertaining to their classes, such as Canvas notifications, and others containing important information such as emergency updates in the case of a fire etc.
Allowing students to unsubscribe from certain kinds of emails could help reduce the clutter and make students more responsive to emails.
Currently students have no way to opt out of unwanted emails sent through the "all student" email.
Students would welcome the chance to limit their emails to the ones pertaining to their interests, major and classes.
While people might believe the campus event they are promoting is important, some students might not want to receive three reminders about it.
Also, one way of helping students manage their emails could be requiring an online orientation on how to organize a Gmail inbox, the platform Pipeline email uses. The same information could be included in a tab on Pipeline.
Learning how to use email is an important skill for work after college and so it's important to  encourage students to get comfortable with email.
Email is one of the main ways information is communicated on campus, and so we need to pay special attention to our email systems to guarantee they stay civil and convenient.