City College men's volleyball falls short to Orange Coast
The City College men's volleyball team lost in a three set game to Orange Coast College this Wednesday night in the Sports Pavilion.
According to head coach Jon Newton, Orange Coast is historically a good program that gets good kids who are fundamentally strong. When you play the top team you can be easily expose.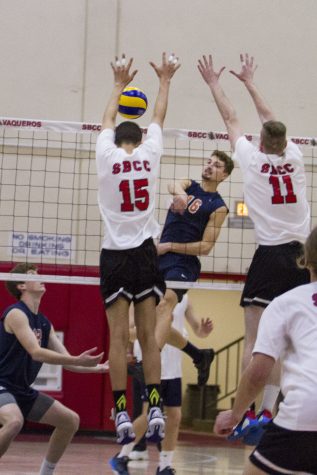 Sophomore Setter, Jonathan Baldwin (No.6) started the first set with a serve into Orange Coast territory, putting City College on the board 1-0.
With a kill by Jarrett Futch (No.15), City College were short of the lead with a score of 12-15.
After a set from Jonathan Baldwin (No.6), Jarrod Jordan (No.5) killed the ball to the other side finishing the first set with a score of 22-25 with Orange Coast in the lead.
"I think when we walked in the gym, the energy was a little bit down," said Futch. "I think it was the mentality we walked in with, we have not beaten this team in 4 or 5 years."
According to Futch, the City College wasn't playing that great defense or closing blocks that well.
"It was the small things and we weren't staying true to the fundamentals," Futch said. "If we do that next time, I think it's going to be a lot better result."
Set two started off with Sean Reynaert (No.11) killing the ball putting City College on the board 1-2.
City College decided to call a timeout after Orange Coast gained a point streak with a score of 4-12.
Kealakahi Spain (No.1), worked to bring City College back as he dug the oncoming ball for Baldwin to kill the ball making a score of 6-14.
Refs blew the final whistle, ending the second set with a final score of 12-25.
"I don't know if it was nerves or if they just got on a run, we let up pretty early in the game when we should've stayed strong," said Jackson McDonough (No. 10). "We lost our energy, it was a loss of momentum, and a loss of heart that we struggled to get back."
Set three started off with a serve by Orange Coast going into the net, putting City College up 1-0.
City College maintained a lead of 3-2 with a block made by Reynaert.
The Pirates quickly caught up and regained the lead.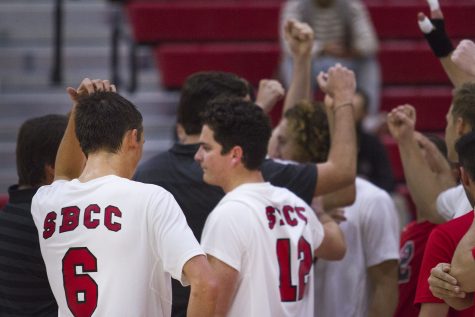 Fighting every step of the way, Reynaert put the score at 13-16 with a block.
The final score of the third set was 20-25.
Orange Coast is ranked #2 in their league where as City College is ranked #9
"It's a good team, if we get quiet and get defensive they're just going to take advantage of us and that's what they did very quickly," Newton said.
The final scores of the three set match was 22-25, 12-25, 20-25.