SBCC's sustainability committee unveils renewable energy powered phone charging station
Never again will you have to choose between being outside in the fresh air or charging your phone, at least not while you're at City College.
Recently, the Associated Student Government's Sustainability Committee created a solar and wind powered device on West Campus that allows you to charge your phone while you enjoy the outdoors.
"The way I see it, promoting the use of renewable energy through this project contributes towards education of sustainability," Hofstatter said. "And, it shows that there's things students can do and get involved in that may help promote sustainability in the long run."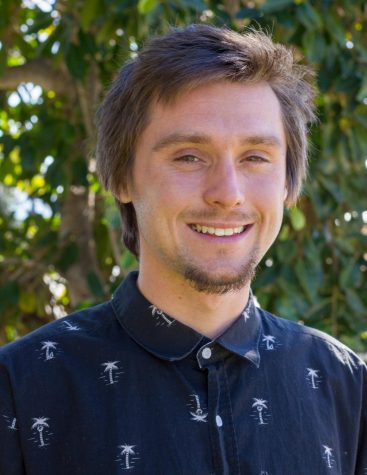 The idea for the device was initially brought up around Spring 2016, said Nicholas Hofstatter, the ASG Commissioner of Sustainability. According to Hofstatter, plans for building the device were initially put on hold for a while, but efforts commenced to build the device during the fall of this school year.
While the project is useful for students, it also contributes to the Sustainability Committee's mission and California's 2030 Climate Commitment policy.
The policy states that California must derive 50 percent of its electricity from renewable energy sources by 2030. According to a public relations document about the policy, current state energy policies will only increase renewable energy-derived electricity to 33 percent by 2020, so efforts beyond the implementation of current state energy policies will be necessary to meet the goal set by the Commitment.
According to Hofstatter, the mission of the Sustainability Committee is to acknowledge global climate change and to commit to the goals in the District Sustainability Plan. In addition to organizing student-lead initiatives, the committee promotes sustainability on campus through educational projects, environmental consciousness and student government policy.
Gregory Heimann, a sustainability committee member who helped build the device, said that although the device is functioning properly, it can still be improved.
"This is kind of like a prototype, we learned a lot while doing it," said Heimann. "I think on our next one we are going to go with a larger solar panel, and probably raise the wind turbine higher."
While the device is relatively new, the response from students has been positive and contributes to the committee's plan of educating students about sustainability.
"A lot of people ask questions about it. They want to know what it is, what is does and how it works," Heimann said. "We've actually had so many people try and use it that we're having issues with keeping the battery charged."
Although this renewable energy project is complete, Heimann predicts there will be more to come. He said he wants to build more devices like this one, and place the next one on the hill in West Campus.
"A lot of people like to lay out there and they're usually on their cell phones when they're laying out [by the hill], so it'd be pretty convenient to have a station out there," said Heimann. "It's also very exposed to the wind, so we could probably make a wind turbine generate a little more power."
The Sustainability Committee meets at 1:30 p.m. every Friday in Campus Center Room 223 and it invites anyone who is interested in being involved in these kind of projects, which move the campus toward a more sustainable future, to attend.