SBCC hires image experts to improve public perceptions
City College is developing a plan to improve its relationship with the community by consulting with a professional agency.
The college hired Sheri Benninghoven from SAE Communications in August to develop a plan to improve the way it communicates with the general public. She is also helping establish a crisis plan to prepare City College for disasters that range from a hurricane to a campus shooting. Superintendent-President Dr. Lori Gaskin hired the consultant because the school lacks state funding and publicists to improve its outreach to the public.
"I have a keen commitment to inclusion, engagement, and communication to communicating with our students, faculty and staff," Gaskin said. "My goal is to see how we can do a better job communicating with our external public, and that is where SAE comes in."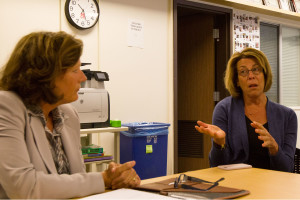 SAE Communications works with public agencies, such as City College, to create strategic plans based on their specific needs. Gaskin said that agency will make a positive impact in clearing up misconceptions about City College.
The company is recognized for working with other California Community Colleges such as Long Beach City College, and successfully implemented a communication plan into its campus.
"We work with public agencies by showing them how to do a better job with communicating," Benninghoven said. "Speaking to the public through the media is a vital responsibility for public agencies."
She said that SAE is about 95 percent done conducting research to develop the plan. Since September, the research has involved about 40 one-on-one interviews with members of the community and executives of the college.
There are also five focus groups that will help develop the plan's organization: administrators, classified staff, Academic Senate, Associated Student Government and The Center for Lifelong Learning. The student senate is the final focus group to be interviewed next week.
"There is a serious lack of communication between SBCC and the community," said Bryanna Siguenza, the student senate's vice president of external affairs. "Instead of the school speaking on behalf of the students, let the students speak for themselves."
Siguenza suggested that the school allow a dialogue between City College students and the Mesa Community to settle the ongoing dispute with noisy neighboring students.
"Let the students voice what is going on between them and their neighbors," Siguenza said. "I've heard so many stories about students' experiences with their neighbors that never get recognized because they don't get a voice in the media."
Benninghoven said that there is still more research needed before the plan can be implemented.
"We will also conduct an audit of all media coverage that exists of the school," she said. "All the things have been printed both electronically and hard copy will also be audited."
City College and SAE Communications hope to have all research and interviews done by the end of 2015 to incorporate the plan into the spring 2016 semester. The college is expected to use the plan for three to five years.
"I want the entire community to understand the richness that the students bring to this institution and the incredibly powerful contributions that they bring to the community," Gaskin said. "That to me is what public relations is truly all about."