Chef Stephane Rapp admits it was love for a woman that brought him from France to California, but a lifelong passion for the culinary arts that motivates his teaching.
"I was on another path, and a lady changed my path," Rapp said.  
Although the two eventually went their separate ways, Rapp's passion as a chef continued.
"The French are immersed in the culinary arts; cooking is second nature," Rapp said. "It starts in childhood."
Story continues below advertisement
Rapp first seriously garnered his love for food in tenth grade, and since many French students learn their trade right after high school, he knew exactly what he wanted to do. 
"My skill allowed me to travel and support myself," Rapp said.
Rapp learned English in the ESL program at City College in the '90s. He worked as a chef in local restaurants, then ran his own catering business. He also taught cooking through adult education.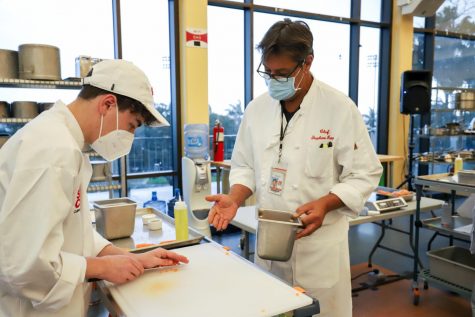 The Culinary Arts Department Chair asked Rapp to teach at City College 18 years ago.
"Having such great chefs prepares you to get into the workforce," said Kathryn Morris, a returning student in the culinary arts program.
Rapp said he feeds off the energy he gets from his students and wants to see them succeed.
In his classes, Rapp passes on his experience in the culinary arts and what he calls a philosophy on life. 
"No matter what life throws at you, you have to adapt," he said. "You have to give and then you get back."
Rapp also volunteers for Partners in Education, a non-profit organization of local business and education volunteers that help to prepare students to transition from school to the workplace.
He said it's important to have a degree or certification.
"I urge them to get this piece of paper," Rapp said. "To prove they have the capacity to learn."
Culinary Arts are one of the few classes that currently meets on campus. 
"We all wear many hats," said teaching assistant Monica de Alba as she prepared the room for the next class. "It's a lot of work, but we're happy we can have the class here."
"Chef Rapp is a great teacher, who takes the time to go over things until I get it," said Jesus Miranda, a second-semester student. 
It's Miranda's goal to open a Mexican restaurant.
Several students praised Rapp, whose philosophy can be summed up by one single statement: "Food is life itself."