Celebrity chef hires SBCC culinary students at Mesa Burger
The newly opened Mesa Burger may be owned by the first woman to win Iron Chef, but the kitchen outshines with culinary arts alums and students.
Gabriel Ibarra, an alum from the School of Culinary Arts, is head chef and kitchen manager. As the first employee hired, Ibarra helped founders Cat Cora and Chris Chiaparra in the hiring process.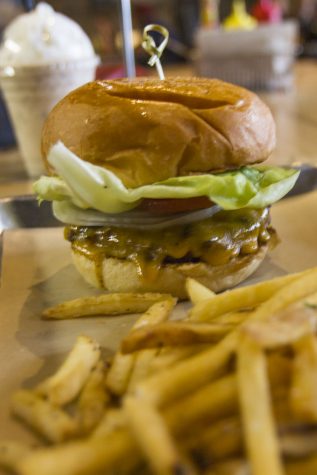 He paid homage to his City College roots by recruiting and hiring two other alums from the program, including lead cook Marika Millner and sous chef Jason Parker.
"All of the people I recruited from [the School of] Culinary Arts have been superstars," Ibarra said.
His team also includes current Culinary Arts students Lia Reyes and Christie Onan Broesamle.
"I enjoy bringing the students in here to learn," Ibarra said. "I do think bringing in good quality students will help us to grow."
Of course, it's not just the Culinary Arts alum and students behind the success of the restaurant. For example, Ibarra said Jordan Farrell, one of his staff, who has no formal training but whose family history has experience in the restaurant business, is also a standout in the kitchen. He said he is currently trying to recruit Farrell to attend the school of culinary arts to receive that training.
All staff—whether in the kitchen or not—work together to prepare and serve foods such as gourmet burgers, fries and salads. There are also vegetarian options, kid's meals, local wine, beer on tap, beer floats and malts and shakes.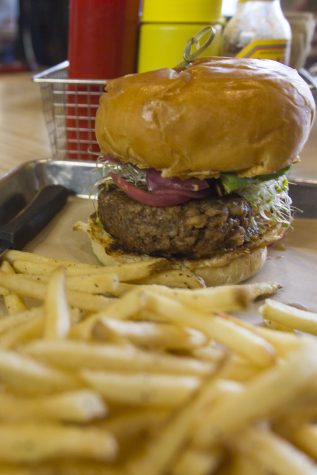 Business major Daniel Podratz works as a busser, runner and cashier at Mesa Burger. He said the staff tries to "make it as best as we can for the customer."
Chiappara and Cora created Mesa Burger to meet the need for a burger joint in the Mesa. Since its opening on Dec. 12, 2016, the restaurant, which is located at 315 Meigs Road, has had lines of patrons out the door on a regular basis, with customers ranging from Mesa residents, to City College students, to rapper Kendrick Lamar.
Dallin McComb, an addictive disorders counseling major, and his mother Dawn McComb recently moved to the Mesa and described their first dining experience at Mesa Burger as "amazing."
McComb had the Downtown burger which comes with bleu cheese, grilled onions, grilled jalapenos and sriracha sauce, while his mother had the Sandspit burger, which includes Kalamata olives, crushed avocado, spicy feta tzatziki and pepperoncini.
"We'll just keep trying all the food until we try the whole menu," McComb said.
According to assistant general manager Eric Stees, the most popular item on the menu is the classic Mesa burger, which features a beef patty between two brioche buns, along with a slice of green lettuce, tomato, onions, pickles and the restaurant's sauce.
Stees said the restaurant sells an estimated 300 burgers a day during weekdays, and 500 burgers a day on the weekends. Over a third of the burgers ordered are the classic Mesa burgers.
"Sure, it's a hamburger, but it's the best damn hamburger you'll have," Millner said. "Cat Cora wouldn't have it any other way."