Enrollment down 12%, while SBCC struggles to keep current students
Enrollment at Santa Barbara City College dropped about 12% compared to Spring 2020, totaling at 11, 378 students as of January. 
"We expect our enrollment numbers will fluctuate a bit over the next few weeks," Executive Director of Public Affairs and Communications Luz Reyes-Martín said. "Our dual enrollment enrollments typically come in later in the term (and this is a significant group)."
Although these aren't the final numbers for the semester, they aren't likely to improve.
The prediction that the 50% drop in international students seen in the fall would carry over into the spring was proven to be correct.
"Our non-resident population, which includes out-of-state and international students, has seen the biggest drop," Reyes-Martín said. 
Total out-of-state enrollment is about 884 students, 540 students lower than in 2020.
"This group does, however, represent a smaller portion of our total student population," she said.
Though they are a smaller population, out-of-state students pay significantly-higher tuition than local students. The college's ability to rebuild those numbers could be crucial for shaping the budget in the future. 
Despite the plunge in enrollment, City College funding will not be affected for the time being.
"The state recognizes that community college should not be penalized for a decline in enrollment that has been largely due to the COVID-19 pandemic," Reyes-Martín said.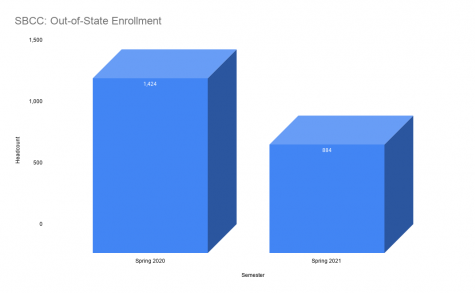 Still, the college continues to ramp-up efforts to attract students. In a November College Planning Council meeting, Superintendent-President Utpal Goswami was already making plans for Fall 2021. 
"We should try and do everything possible to retain the students that we have, and then put out a marketing campaign for additional students over the summer," he said last semester.
City College also has staff members working behind the scenes to boost numbers.
"We have a very strong and state-recognized enrollment marketing team that has been working throughout the year," Reyes-Martín said. "This team is already developing plans to attract new and returning students over the coming months."
The choice to keep City College online amid a surge of positive cases in the county likely deterred many students from returning this spring, but not everyone prefers to be on campus.
"I've actually found online school is better for me," City College student Olivia Harris said. "I have trouble getting myself to wake up on time and show up to classes and I'm pretty good at managing my own time."
Many teachers have lectures pre-recorded, so students don't always need to be "in class" at a certain time anymore. 
But some students may never return to City College after the pandemic, or any other college. 
"Studies show that students that take a break might not come back," Academic Senate President Raeanne Napoleon said. "I hope students continue taking at least one class so that their foot stays in the door here at SBCC and their higher education overall."
This semester's drop contributes to an enrollment that has been declining for years now. It is unclear if and when City College will return to what it once was.