The Vaqueros lost 17-14 to LA Harbor Saturday with Vaqueros running back Tamir Walker receiving what appeared to be a serious neck injury in the second quarter.
Paramedics arrived to rush him to the hospital after he was tackled while running the ball. Walker was on the ground for about 15 minutes before being lifted off to words of encouragement from his teammates.
"I love you Tamir," and "Here you go Tamir," was heard in every direction.
Player Ryan Strickland yelled, "You got this Tamir," as Walker was moved into the ambulance.
Story continues below advertisement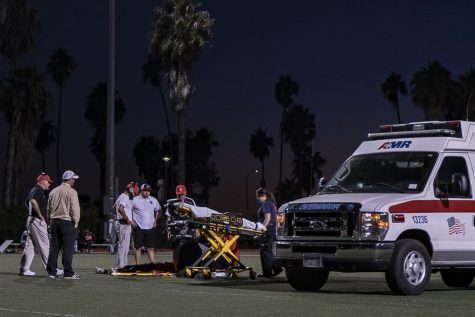 The Vaqueros have been cursed with injuries with two quarterbacks already having been injured earlier this season, but player Ramon Lazarit said they "gotta just keep grinding though."
The game had a wild start with three touchdowns in the first quarter. LA Harbor scored the first touchdown of the game but the Vaqueros were resilient and scored the very next possession. Walker returned the ball off the punt to the 50 yard line to start the possession. Off of consecutive runs all by Walker, the Vaqueros pushed to within the 10 yard line.
With all the spotlight on Walker after magnificent plays, quarterback Franco De Luca was able to pull off the quarterback sneak to score the first touchdown of the game for the Vaqueros.
The highlight play of the game came from defensive line Luke Krotzer after he stripped the ball from the carrier and ran it back for a touchdown off of a punt. The crowd erupted for Krotzer as he gave the Vaqueros the first lead of the game, contributing to a level of excitement from the crowd that had never been higher for a City College game this year.
This was Krotzer's first touchdown of the season for City College, a rare sight for a defensive linebacker.
Starting running back Will Bayonne was already out for the season after an ACL tear earlier this year. Walker had done a great job taking over for Bayonne, recently running for 200 yards in the game against Antelope Valley.
The second half only allowed for one touchdown by LA Harbor, but City College was held scoreless, keeping them winless at home.
"We missed him, but it's not an excuse," coach Craig Moropoulos said about Walker's injury after the game. He added that he hopes the rush to the hospital was only a precaution and believes he could be back soon.
The Vaqueros are now 1-6 but the team is still charging forward.
"It was a hard game to lose but we were there," Moropoulos said. "I'm proud of the way they played, they are still playing their butts off."
The team has suffered through team-rattling injuries and a demoralizing record but they are still as optimistic as ever.
The Vaqueros' next game is at 2 p.m. Saturday, Oct. 27 at Allan Hancock.