A battle between two of the top five teams in California resulted in a 2-0 shutout for City College over Chaffey College on an overcast afternoon at La Playa Stadium.
The tenacious City College women's soccer team recorded its fifth shutout of the season. It held Chaffey to just three total shots and has not allowed a goal in four consecutive games.
Number two ranked City College handed Chaffey its first loss of the season.
"It's a contribution from the whole team," said City College midfielder Chloe Montano (No. 6). "We are built from the back to the front on both offense and defense."
Story continues below advertisement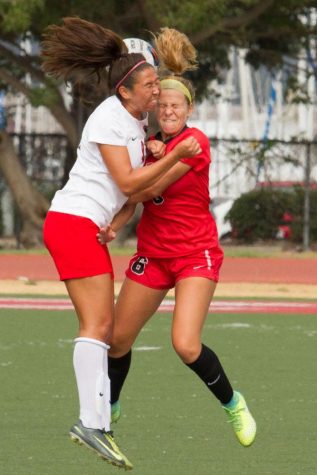 The Vaqueros got off to a fast start, scoring in just the third minute of the game. Forward Katherine Sheehy (No. 4) found teammate Isabella Viana (No. 11) for the goal, her fourth of the season.
Sheehy recorded her second assist of the year.
City College added its second goal on a penalty kick from Montano in the beginning of the second half. The goal put the game out of reach for Chaffey.
"It's a good feeling when you have a strong defense and can put the game away," said Montano. "Being up 2-0 keeps the team from getting frantic out there."
Midfielder Alexa Benitez (No. 2) had a solid game for The Vaqueros. She caused a lot of changes in possession and set up some scoring opportunities for teammates.
Frequent offside calls derailed some City College scoring opportunities in the first half. Head coach John Sisterson felt that some of the calls were questionable and that his team could have scored a few more goals before halftime.
Despite all of that, Sisterson was pleased that his players stayed aggressive throughout and "never took their foot off the pedal."
"It was a competitive game and we knew they were competitive," said Sisterson. "They had beaten the number one team in the state, so we knew it would be a battle."
"The girls applied themselves well and I'm proud of the way they played."
The Vaqueros have outscored their opponents 18-2. The team is ranked as the number eight team in the nation.
"It's crazy the amount of confidence we have in one another," said City College defender Anna Telliard (No. 7).
Telliard is a freshman who helps run that defense with her sister, goalkeeper Holly Telliard (No. 00).
The Vaqueros look to pick up their seventh win of the season 2 p.m. Friday, Sept. 22 at Victor Valley College. They will return for a home game 2 p.m. Tuesday, Sept. 26 to take on College of the Canyons.