Lady Vaqueros secure win against Cuesta in home game
The City College women's basketball team rolled past Cuesta College this Saturday night at the Sports Pavilion, winning 82-73.
The game was close throughout the first half with neither team being able to build much of a lead.
"This team is at its best when everyone is working hard and pushing past their limits," said Jada Clark (No.44).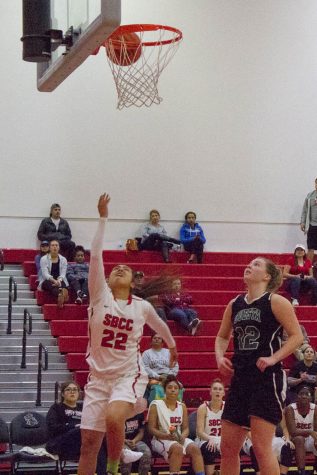 In the final thirty seconds of the first quarter, Stella Dulay (No.33) hit a three-point shot that gave the Lady Vaqueros a 14-13 lead to end the first quarter.
Cuesta led for nearly all of the second quarter, but were never up by more than six. The Lady Vaqueros got another a clutch shot with minimal time in the quarter as Alyssa Cosio (No.15) drilled a three, giving City College a short-lived lead. Cuesta retook the lead and were up 33-32 at the half.
The Lady Vaqueros shot lights out in the third quarter. The team did a fantastic job moving the ball and got a lot of open looks from behind the arc. They scored 6 out of 10 attempted three-pointers in the third quarter, helping them build a 62-50 lead.
"We went back to the team rules. The girls took a lot less quick shots in the second half. The chemistry on this team is really coming together," said coach Sandrine Krul.
City College had no problem maintaining the lead as they won by a final of 82-73. At one point, the Lady Vaqueros lead by 18.
"I thought the biggest take-away from this game was that our chemistry tonight was crazy," said Diamond Alexander (No.23). "We haven't had chemistry like that all season."
The turning point in the game seemed to be early in the third quarter. The Lady Vaqueros made threes on back-to-back possessions first by Cosio and then from Morgan Giove (No.21) putting City College up 40-33.
"We were able to win in two's. Stop two possessions and then score on two possessions. We kept up the intensity the whole second half," said Alexander.  
"We call it Synergy," said Alexander.
Destinee King (No.25) finished with twenty points and eleven rebounds, while Clark added twelve points and twelve rebounds. Cosio had fifteen points while making three from behind the arc and dishing out eight assists. King recorded her fourteenth double-double of the season while Clark's double-double was her fifth of the year.
"We can't let up in practice. If we keep up the high intensity then we can definitely build on the last two wins," said Clark.
The Lady Vaqueros (14-9) have four games remaining on the schedule and will play Oxnard (5-18) on Wednesday in Oxnard.