Santa Barbara protesters gathered together at 12 p.m. on Saturday, April 15 on the corner of State and Anapamu streets to object to the hold placed in Texas by Judge Matthew Kacsmaryk on the FDA's approval of the abortion drug mifepristone.
Protesters filled the sidewalk performing chants and holding up signs. Signs read as "fight for reproductive justice," "keep judges out of FDA," and "control guns NOT women's bodies."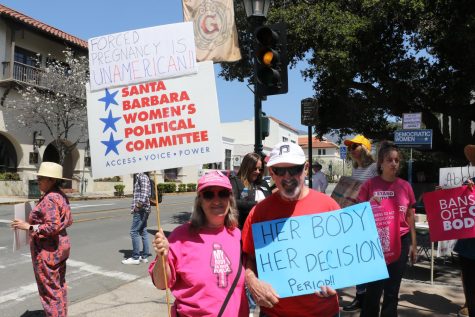 According to Planned Parenthood, mifepristone otherwise known as the "abortion pill," is a drug used to terminate an early pregnancy that is no later than 70 days or 10 weeks. This specific form of abortion has a 99% safety rate according to Planned Parenthood's website. The contraceptive has been approved by the FDA for over 20 years. 
Paula Lopez, the president of Santa Barbara's women's committee, organized Saturday's protest in hopes of making a change and hoping that these voices are heard loud and clear.
Story continues below advertisement
"We are protesting to keep the FDA-approved abortion pill, mifepristone, as a safe and legal alternative for women who would like to have an early abortion," Lopez said. "I think that the Texas ruling is one of the first attempts of many that are going to try to hurt reproductive choices for women, I think this is only the beginning."
Women and men came together to unite against the recent rulings that took place in Texas. Many danced to show the unison that women need to keep fighting for their rights, others held signs and chanted for their freedom.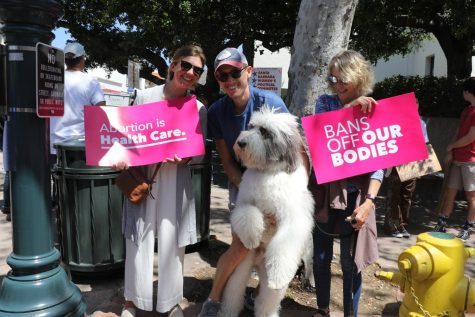 Passersby stopped by the protest yelling "What about children's healthcare? What about children's rights?" In response to these questions, the protesters made it clear that they want women to have rights and the freedom to make their own choices for their bodies. 
Shonnie DeArmond, a local protestor, shared her story going through all aspects of carrying a child, giving a child up for adoption, obtaining an abortion, and keeping a child all before she reached the age of 20. 
"I feel like I did the full gambit: adoption, abortion, and child bearing," DeArmond said. "Abortion is the easiest of all three of those things. Adoption benefits the parents who adopt, it doesn't necessarily benefit the children, and it certainly does not benefit most women who give birth."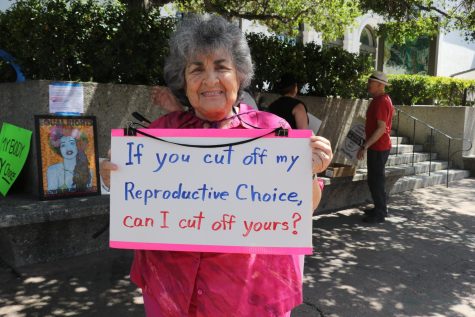 Many who were walking down the street stopped to join in on the cause at hand. The streets were filled with people of different backgrounds sharing their stories and expressing the fears they have of these new laws and rulings that put limits on what choices women can make for their bodies. 
Many protesters explained their concern that having a conservative-run government would eliminate all abortion choices and soon it would reach a level of affecting LGBTQ people.
"Make sure you vote and go to sources that have up-to-date information like Planned Parenthood," said Suzanne Cohen, president of democratic Women of Santa Barbara county.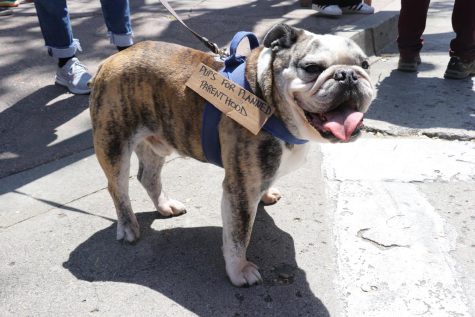 "Vote and support democratic candidates because they are the ones out there fighting politically for this issue." 
If the hold gets approved, people who live in Texas will not be able to have an abortion through mifepristone. Women would be forced to travel to different states to get the drug or proceed with a potentially unsafe and fatal abortion or unwanted pregnancy. 
"I can't believe we are still doing this," local bookkeeper Michael Lynch said. 
Planned Parenthood has created a petition to defend the rights to an abortion in Texas, which can be found on their website.