Phi Theta Kappa (PTK) is hosting a benefit concert for the JAMS Music School from 6 p.m. to 8 p.m. on Friday, April 14 in the BC Forum on West Campus. According to an email sent by PTK, tickets are $10 online and $15 at the door. Proceeds will go towards supporting JAMS, an organization that provides affordable music education and outreach programs to people of all ages, regardless of background or financial situation.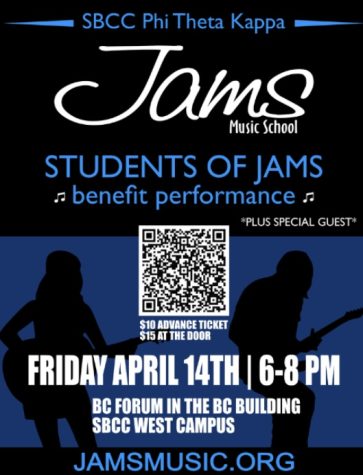 California Polytechnic State University, San Luis Obispo is hosting its annual free open house for admitted and prospective students on Saturday, April 15 at the Cal Poly San Luis Obispo campus. According to an email sent by the University Transfer Academy, participants will gain insight into campus life. Spots for the trip are limited, so reserving a seat on the 56-seater bus is on a first-come, first-served basis. 
Students are now able to nominate the 2023 commencement speaker. Nominees must be a member of the graduating class, hold a 3.00 cumulative GPA, have involvement in community activities, and must be articulate and willing to collaborate with a faculty member in the department of communication on their speech. Faculty, staff, and administrators are encouraged to submit nominations as well. 
Story continues below advertisement
City College's Dance Company is presenting its Collective Spring Dance Concert at 7 p.m. on Friday, April 14, and Saturday, April 15 at the Garvin Theater on West Campus. Tickets are $20 in advance and $25 at the door. Scan the QR code for tickets.
The Women Identifying Affinity Group is hosting a social kick-off event at 3 p.m. on Friday, April 21 at the cafeteria in recognition of City College becoming an official chapter of the American Association of Women in Community Colleges (AAWCC). The affinity group aims to ensure an environment where female identifying students can feel safe, valued, and empowered on campus.
The "Strategic Job Search" seminar is occurring from 9 a.m. to 1 p.m. on Saturday, April 15 at City College's Wake Center. According to the digital flyer on the pipeline homepage, participants will develop and implement a strategic job search plan.
City College's photography club meets from 12 p.m. to 1 p.m. every Tuesday in room OE184 on East Campus. According to the club's flyer, all mediums, as well as students of all levels and interests, are welcome.