The grand opening of the prayer room took place from 4 p.m. to 5 p.m. on Feb. 23 outside of the Administrative Building. Students, faculty, and peers of all religions gathered on a windy day to show their support. Instrumental music, tables filled with colorful food, and laughter from all parties filled the space. 
The room welcomes all religions, practices, and ethnicities. It is open Monday through Thursday from 7:30 a.m. to 10:30 p.m. and Fridays from 7:30 a.m. to 5 p.m., located in A125. 
"SBCC is a really big equity mission school, we focus a lot on making sure that all students have a place where they feel safe and at home, so my big goal was contributing to that," Emilie Beckman, the creator of the prayer room said. "If we can just change the perception that one student has of the school and make sure that they truly feel seen by the administration that was the goal."
Beckman, who is also the commissioner of international student affairs for the Associated Student Government, created the project in September of last year. Her inspiration came from the discovery that her roommate would have to leave City College's campus up to five times a day in order to participate in her scheduled prayers. As a result, she missed a lot of important parts in her school schedule. Beckman explained that she wanted to make sure that students like her roommate felt seen and heard by the school, and were able to have a space for their practices on campus.  
Story continues below advertisement
"The school has been so supportive, I was shocked how supportive they were," Beckman said. 
Beckman stood in front of all those who gathered that day out of support, and gave a speech that reflected her gratitude to those that helped her throughout the process. Bundles of flowers were given to the names called as a thank you. Among those who were recognized was the Interim Superintendent-President of City College Kindred Murillo, the President of the Board of Trustees Jonathan Abboud, and member of the SBCC Foundation Rachel Johnson.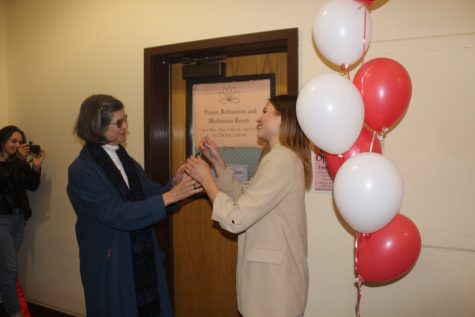 Lexa Welch, commissioner of fundraising for ASG, is another person who worked very closely with Beckman throughout this project. 
"We wanted to do this in order to bring SBCC closer to being a more equitable place," Welch said. She partakes in the practice of meditation in her everyday life, so having a designated space for this makes it much more convenient to participate in.
"I think it is really beautiful that it is for anybody, and everybody can take a part of it," Elizabeth Wilmer, the vice president of student affairs said. She also worked closely with Beckman throughout the process of opening the prayer room.
Near the end of the opening, Beckman and Murillo joined hands holding a pair of large golden scissors and counted down from three. Once the number one was shouted, the red ribbon placed in front of the prayer room was cut, opening a space for all religions and practices to coexist.