A couple awoke to an intrusive roar of water and mud that burst through their side wall, ripping them from what was once their home. In a scene of chaos, one husband gripped tight to a tree while the other was consumed by the thick mixture of mud, debris, and rushing water that came with no warning. 
"He was never to be seen again," said Robbie Carter, a trauma nurse at Cottage Hospital, as he recalls from one of many stories shared with him about the 2018 Montecito mudslides. 
A haunting remembrance of the Montecito floods grasped the community as a familiar downpour of heavy rains began on Jan. 9 across Santa Barbara County, exactly five years after the day of the historic floods. 
Submerged vehicles, road and airport closures, and canceled classes were among the consequences of the rainfalls that persisted throughout the week. Residents of Santa Barbara, including many students, had their property and belongings ruined by the water that flooded into their homes. 
Story continues below advertisement
At City College, the drainage system that surrounded the Occupational Education Building was overpowered by the water, which then seeped into the classrooms of the building. Director of Facilities and Operations Rob Morales and his team were quick to take action. 
"I believe our facilities crew did a fantastic job making sure all of our drains on campus were cleared," Morales said. 
In an effort to provide support for those affected, Wake Campus served as an evacuation center set up by the American Red Cross, where Morales estimated a number of about 30-40 there to seek help. 
"They do a great job," the operations director said. "They're very professional, very organized, and they took care of the people that were in need." 
To escape a similar fate to the tragic events which resulted in the death of 23 individuals in the Montecito floods, evacuation orders were declared by Santa Barbara County officials for the affected areas.  
"I noticed the evacuation and the acknowledgment of the risk this year was much faster and people evacuated immediately," Carter said. 
 First responders and city officials made cautious changes in the response to flooding after the 2018 mudslides in order to adequately react to disasters of this sort. Urgent evacuation orders were used to compel more efficient reactions from residents during the week of Jan. 9. 
At Cottage Hospital, which sanctions a level one trauma response center, new "disaster showers" were built to effectively remove mud and debris that may stick to skin, which makes treatment more sanitary and feasible. 
"We really learned a lot from that," Carter said. "So this time we were prepared."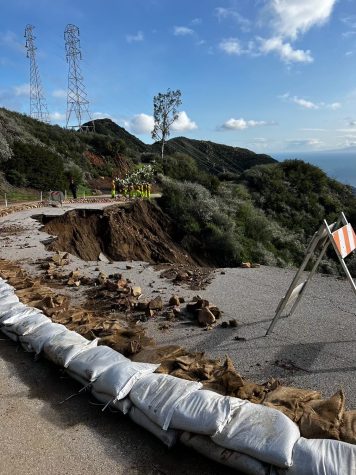 Despite the heavy rainfall and the damages that it caused, no deaths or injuries were reported by Santa Barbara County, though while working in the hospital, Carter attended to homeless individuals as a result of them being without a safe shelter from the rain. These visits were without any serious injuries or deaths among the patients. 
Affected students and community members have several resources to turn to in case of future disaster or flooding events. Resources include the Basic Needs Center located on East Campus at City College, and local organizations like the SB Bucket Brigade and the Foodbank of Santa Barbara County. 
For current procedures and for information on potential future storms, community members can find resources regarding the recovery process on the City Of Santa Barbara's Storm Recovery Resources page. 
Clarification: Feb. 10, 2023
Robbie Carter is a pseudonym to protect the source, who is not officially authorized to speak on the topic.