The City College Board of Trustees election will be held on Tuesday, Nov. 8. There are four candidates on the ballot for area 1 and 5 while the remaining two candidates are running unopposed. The candidates are representing certain districts in Santa Barbara.
The Channels formally interviewed the candidates about why they are running for their perspective positions, their goals and plans for the future.
Debi Stoker
Story continues below advertisement
Candidate Debi Stoker is running for a seat on the Board of Trustees with the goal of putting focus back onto the students of City College. 
She is running against Charlotte Gullap-Moore for the Area 1 position to represent Carpinteria and Montecito. Her campaign encompasses her vision for City College, which she believes sets her apart from the rest of the candidates. 
"When you look at what all of the candidates stand for, I'm kind of polar opposite," Stoker said. 
Her top priority is removing the COVID-19 vaccine mandate. She wants all students, regardless of vaccination status, to be able to attend school in person, while having the individual choice to get the vaccine or not. 
"I don't think Santa Barbara City College is headed in the right direction," Stoker said. 
As of Oct. 24, the current board approved the dissolution of Resolution 1, which upheld vaccine requirements for students to be on campus, and voted to enact Resolution 10. This resolution would eliminate the vaccine mandate as of Jan. 1, 2023. 
Though the vaccine would not be required for spring semester attendance, Stoker advocates for the 4200 students she said are "still being denied an education" for the remainder of the fall semester. 
Over the past 17 years, Stoker has been immersed in teaching from a business perspective, beginning with her company JJB Image in 2005, where she taught business techniques to different companies, and more recently through her creation of a design company called Debi's Designs. 
Words of inspiration from her husband Mike Stoker, current Republican candidate for California's State Assembly, sparked her journey of running for this position, which she hadn't previously considered as it was "not [her] thing."
Stoker's husband reminded her that "you can't complain unless you do everything you can to fix it," she said.
During the COVID-19 pandemic's beginning, her daughter's attendance at City College opened the gateway to a flood of "mismanagement and stress" which she thought previously existed, but was only heightened by the pandemic's intensity. 
"Focusing a lot on the teachers' needs and not the students' needs created even more stress and mismanagement," the candidate said. "That's the biggest reason why I jumped in. Then of course when you jump into something, and again it's like peeling back the layers of an onion, then you realize there's even more issues." 
Putting the focus back on "local kids" is a priority for the Area 1 candidate, who questions if room and board is being filled by international students over local ones. 
"The majority of the board of trustees that are making the decisions for Santa Barbara City College are not keeping our kids in focus, our local kids," Stoker said. "We have a beautiful institution, we just need to put the focus back on the students."
-By Bailey Schroerlucke
Charlotte Gullap-Moore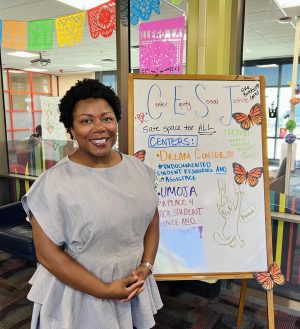 Charlotte Gullap-Moore is running for the nonpartisan Area 1 District seat on Santa Barbara City College's Board of Trustees. 
Gullap-Moore's path to earning a Doctorate in Nurse Practice started at a community college.
 "I get it. I lived it, and I get it," she said. 
In college she grappled with a lot of the same things students struggle with today, such as filling out financial aid paperwork and accessing and utilizing school resources.
"It's about the people you meet and your networking," Gullap-Moore said. 
Gullap-Moore attributes her successful educational career to being well represented and supported by people that looked like her. She believes in supporting a diverse community so everyone at City College feels welcome and represented. 
"Equity and inclusion have become buzzwords, but what are people actually doing?" Gullap-Moore said. "I'm going to do it."
As a healthcare provider, she has seen first hand how disparities in health affect not only individuals, but the community as a whole. She wants to address these disparities and inequities by providing aid for those most vulnerable, particularly students of color. 
"The more education you have the less likely you are to succumb to various areas of social determinants of health," Gullap-Moore said. 
If elected, her top priority will be appointing City College's next president.
"We want someone whose ideology and past experiences actually aligns with how the City College came to fruition. The mission of California community colleges is to sustain our workforce and to be the institution of higher learning for our students from an equitable lens," Gullap-Moore said.
As a board member she would like to look at City College's $100 million budget more closely. 
"We need to manage our money in a more dynamic way, rather than putting money towards things that are antiquated and unstainable," she said. "We need to maintain a sound and safe infrastructure for our buildings. Some of our infrastructure doesn't reflect our landscape."
She also wants to build lasting relationships between local businesses and students in the community. She believes creating programs at City College that offer students guaranteed employment and job specific training will strengthen the local workforce and community as a whole.
Gullap-Moore currently lectures part-time at California State University Channel Islands and the Goleta Extensions Nursing Program. 
Organizations endorsing Gullap-Moore's campaign are the Santa Barbara Independent, the Montecito Journal, the Santa Barbara Democratic Party, the Planned Parenthood Action Fund, the Santa Barbara Women's Political Committee and the California School Employees Association.
-By Hunter Clark
Marsha Croninger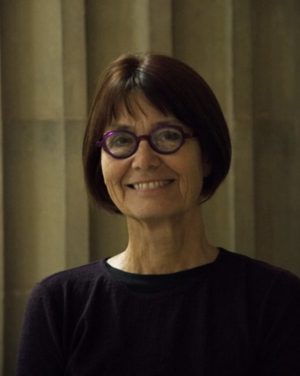 Marsha Croninger has been a previous trustee on the board for 12 years now and is running again this election in area five against Sharon Salvador Jegottka.
Croninger previously served on the board as president for two terms from Dec. 2015 until Jan. 2018. 
For the candidate, the budget transparency is one of the current issues that she is concerned about.
"How we spend our money says what's important to us," she said. "I'm pretty much acknowledged as the budget expert among the trustees, or as I say the budget nerd."
Croninger plans to have a budget that has constituency representation who will discuss how to pay a budget that is sustainable in the long term by figuring out how it will be categorized and spent.
When the trustee first came onto the board, the budget was getting overly abused due to overbudgetting expenses which created unhappiness among the City College community. At the end of that year, there was a $6 million surplus which showed they weren't transparent.
Now, she thinks the current board has changed that with a more transparent budget and are "looking at it as a policy document and trying to structure it in a way that we know we won't continuously have a deficit in the future." 
The devoted trustee has had experience with issues of concern to City College and another includes professional development for faculty and staff, and wanting them to have a path to high level employment at all levels.
"I think that faculty professional development is really important in terms of the quality of teaching that we offer," Croninger said. "Being student centered is obviously critical when you look at all these issues… I like to look at them from that perspective."
To Croninger, being a trustee means looking at the big picture.
"When talking about educational leadership I think that obviously speaks to what trustees do," the candidate said. "We study what's going on, what are the issues both nationally and locally with the college and try to see as a diverse group view points."
Some other areas that she hopes to improve on is getting better at talking about the different viewpoints that everyone in the community has as well as ways to get better and more input from the students about what's important.
Croninger's campaign is being supported by current board members including President Kate Parker, Trustees Peter Haslund and Robert Miller and local residents and community leaders.
-By Melissa Garcia
Sharon Salvador Jegottka
Sharon Salvador Jegottka is currently running against Marsha Croninger for a seat on the board of trustees in Area five. According to Jegottka, her experiences as a mother and a community member of Santa Barbara are what help to give her a unique and personal perspective on issues we face. 
"I was born and raised right here in Santa Barbara, I'm an alumna of City College and it is a gem to our community. It's rated one of the top communities in the nation and I want it to stay that way," the alumna said. 
Growing up in Santa Barbara, Jegottka attended City College while playing volleyball for the school. Most of her family members are alumnas as well. As a parent, she feels a deep connection to City College. 
Two of the issues and programs that Jegottka plans to focus on if elected are dual enrollment processes and career and technical education programs. Jegottka experienced issues with dual enrollment with her son and she's noticed an decrease in the quality of the process. 
"It's not a smooth process, it wastes a lot of time, it takes weeks just to get approved and there's nobody available to help and I want to make that process easier for students," the mother of two said. 
Another issue she plans to take on is the mask mandate. Jegottka mentions that her opposing candidate is for the mandate which is something Jegottka is against.
"City College should be accessible to everyone and I don't believe that the mandate should stand in the way of that," she said.  
According to the local candidate, she's always been an involved member of the community and has helped out in her son's classrooms since preschool. Along with being active in her children's education, she also runs an after school program and is a director of a non profit organization called Child Evangelism Fellowship. 
Jegottka believes that her connection to Santa Barbara and her perspective as a normal community member helps to make her fit for this position. She has experienced navigating issues while living in Santa Barbara as a student, parent, and resident.
"I'm in touch with what our families and students are going through. I'm not a politician. I'm a community member of Santa Barbara," Jegottka said. 
-By Sunny Silverstein
Jonathan Abboud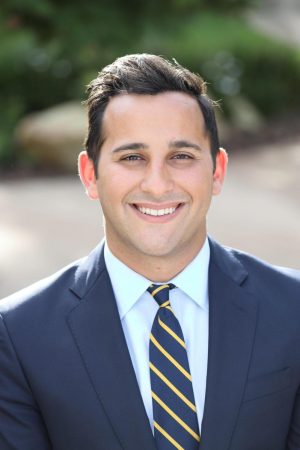 Serving as a member of the Board of Trustees for eight years previously, Jonathan Abboud is running once again without a competitor for area six representing Isla Vista and Santa Barbara. Well known throughout the community, Abboud has received support from community members over the years.
Moving forward in the next term, the dedicated trustee plans to bring forth necessary changes that have presented themselves throughout his time serving on the board. 
"My reason for running is both the same and different from originally," he said. "I am running now to make sure we have good leadership on the board to get through big issues."
Abboud has pinpointed the alarming need for housing and has worked for the last eight years to serve his district to help with this concern. He feels confident that he has the ability to meet the needs of his district to get what they need done.
Moving to Santa Barbara from Los Angeles, Abboud attended UCSB where he gained an abundance of experience in the field of higher education. He was the student body president, focusing his work on statewide issues while also teaching a class about the higher education systems within California for four years before he first got elected as a board member at City College.
Alongside being an active trustee, Abboud has poured his time into helping lead "Reclaim California Higher Education Coalition," a statewide coalition of faculty members and students who advocate for funding for higher education.
Many successes have been reached while Abboud has been in office. Resolution 18, a movement to prioritize equity, antiracism and support for students of color. Working closely with current board member Marsha Croninger to pass a policy prohibiting employee-student relationships to eliminate predatory behavior on campus, strengthening COVID-19 safety measures, and preventing layoffs in the budget process. City College also received a grant to conduct a housing study to research the issue and what would be the best fit for housing at the college.
Abboud is focused on the future and is dedicated to the process of finding a new superintendent president to fill Kindred Murillo's current interim role. He wants to repair facilities and fix prior issues that weren't successful since before he was elected.
"SBCC is such a major educational institution for the central coast," Abboud said. "It's really a jewel for Santa Barbara to have this college here. We just have to do everything we can to protect it and improve it and expand it."
-By Yarrow Hogan
The Channels tried reaching Ellen Stoddard for Area 7 Santa Barbara, but did not receive a response.
Correction: Nov. 8
An earlier version of this story did not include information about Debi Stoker and a last name was misspelled. The Channels regrets the error.