Dream Center's grand opening for undocumented students at SBCC
A quintet mariachi group made up of a trumpet, a guitarron, a vihuela and two violins start performing as they walk in front of the dream center on Wednesday, Oct. 19 during their grand opening. 
The dream center is a resource hub for undocumented students to get academic and financial support as well as legal and community resources.
Leslie Marin Juarez, the dream's center student program advisor, has reopened this space as she's also a dreamer herself.
"I am someone who has been undocumented my whole life," Juarez said. "I'm really just trying to use my own lived experience to fill in the gaps for other students."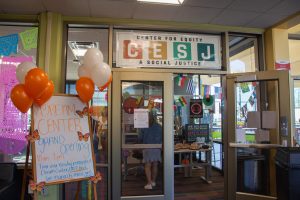 Students, faculty, staff and community members gathered around the CC-228 room listening to the quintet play songs like "Cielito Lindo," "Amor Eterno,"  and "La Cucaracha" while eating traditional Mexican dishes like enchiladas and rice and beans from the buffet that was set up for the event.
Sitting inside the room, I overheard Elias Villanueva, academic counselor, who stopped in to congratulate Juarez say how didn't usually work Wednesdays but went in that day for the event. 
"Our dreamers finally have a space to call home and can feel safe with the leadership of Leslie Marin," Villanueva wrote in a email. 
Inside of the dream center, there were multiple activities set up for those who arrived.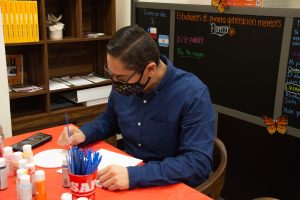 On both sides of Juarez's cubicle were words of encouragement written in both English and Spanish with chalkboard markers. Pins, bracelets, and wooden skull stick masks were set up for anyone to take and color. The couches set up in the room were filled by people writing letters of support for the undocumented students. Seats were occupied by students and faculty at a table set up with paint and canvas that were later going to be put up on one of the walls in the room. 
"I want everybody to have a piece of themselves in this space," Juarez said. 
Starting in November, every second Tuesday and every fourth Wednesday, attorneys from the united farm workers association will be available for students to make appointments. They're able to meet in person or over zoom and can talk to students about Deferred Action for Childhood Arrivals referrals, visas and any other questions they may have.
Juarez hopes to set up a workshop in the future with a community resource named Importa, an organization that would talk about options for dreamers to do advance parole. Advance parole is a way for DACA recipients to travel outside of the U.S. either for humanitarian, work or school reasons.
"I want for this place to not only be for undocumented students but for all students and be a collaborative effort," Juarez said.