SBCC students have until Dec. 3 to apply for pass/ no pass extension
The pass/no pass deadline for classes has been extended to Dec. 3. 
Students are typically given up to 30% of the semester to petition for a pass/no pass grade, which would have been Sept. 24. 
"The chancellor's office has proposed an edit to change the 30% and instead now have the new ed code be until the final day of the course," said Michael Medel, director of admissions and records who is temporarily serving as an area dean for the fall semester.
The college waived the time restraint due to COVID-19. 
While many classes returned to in-person learning this semester, there are still courses taking place online. The students have to take them because these classes are often required for general education and designated majors.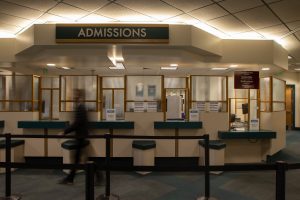 When deciding to choose pass/no pass, it has no effect on GPA calculations. Students will be able to receive credit for going through the course at a passable level. When students elect to take a pass/no pass class, they receive both credits and unit credits upon successful completion of the course.
However, classes required for majors need a letter grade for students wanting to transfer.
For those who stick with letter grades, it can be challenging to be accepted as a transfer since it pulls down the student's GPA if they receive a lower passing grade such as a C. Grades like A's and B's improve the student's GPA and provide a better possibility of transferring to a university.
A passing grade is equivalent to the letter grade of C or better which meets the requirements for sufficient completion. A student who fails to have a satisfactory completion will be given a no pass grade.
After the 30% mark, or about five weeks into the class, neither the student nor faculty is able to change the grading option decision.
Since there are universities that only accept a certain amount of credits from community colleges, there is a limit on the amount of pass/no pass classes students are allowed to take for transferring.
"In terms of transferability and pass/no pass, the option to complete a class with a pass/no pass grading option is always a tool that students can use to help increase their transferable GPA and possibly increase their opportunities for transfer," Dean of Student Affairs Paloma Arnold wrote in an email to The Channels.