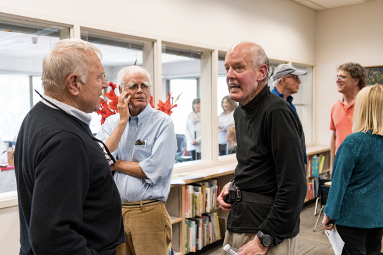 Longtime City College faculty member Fred Hofmann died on Tuesday, Nov. 2.
This was confirmed in a campus-wide email from Interim Superintendent-President Kindred Murillo on Nov. 3. As of now, there are no details to the cause of death.
"His passing has left an especially deep hole with his current students who were Fred's community," Murillo wrote in the email. "School of Extended Learning colleagues note it is bittersweet that we learned of Fred's passing on an Election Day, for which he would spend class time in the weeks leading up to an election briefing students on candidates and issues."
Hofmann served students since 1969 and was teaching courses at the School of Extended Learning's Vitality Program where he assisted older adults.
Story continues below advertisement
Murillo wrote further about Hofmann's 51-year career at the college. He began teaching political science before transitioning to current events courses at the Schott and Wake Campuses. He also worked in the community through the Vitality Older Adult Program.
Hofmann was a founding member of the SBCC Legacy Project Committee, which aims to "create a collection of first-person histories that tell the story of Santa Barbara City College from the mid-twentieth century to today."
Murillo added that Hofmann was an advocate for giving the proper acknowledgments for the work and contributions from the school's staff and faculty. Most recently, he organized ceremonies for the college's founding faculty members including former accounting chair John O'Dea and Professor Emeritus of Political Science Dr. Robert Casier.
Emeritus status is given to retired faculty who have completed ten years of tenured service to the college  as a way to "encourage their continued association with the District," according to AP 7210. 
Plans for a memorial service are yet to be announced.