News Briefs: SBCC programming team takes top honors in contest
With so much happening around City College, The Channels would like to offer a single place for the most important information. We'll be compiling a weekly list of current and upcoming events to keep readers up to date on campus news.
-One of Santa Barbara City College's programming teams, SBCC Yellow, took first place in the 2021 Southern California Regionals for the International Collegiate Programming Competition (ICPC) on Saturday, Feb. 27. The team—composed of Jaden Baptista, Daniel Schaffield and Qimin Tao—outscored multiple teams from four-year universities, including CalTech, UCLA and UCSD.
In the ICPC, three student teams solve 11 programming problems in five hours. This year, 70 teams from 15 institutions in the Southern California region competed online. 

Other SBCC teams that competed also held their own, outscoring universities and local colleges as well.
-The Career Center, EOPS, and the EOPS Transitions Program will be hosting the  collaborative event "Career Pathways Panel for the Formerly Incarcerated," at 3 p.m. on Friday, March 12 via Zoom. The event highlights SBCC and transitions alumni's experiences with their education and careers.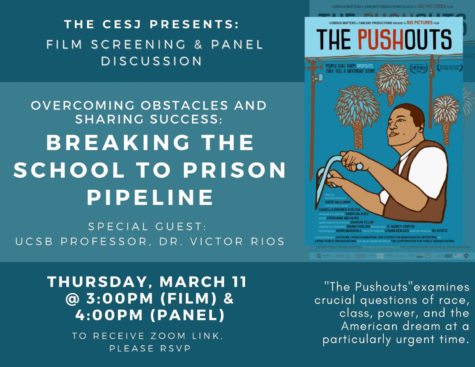 -The Center for Equity and Social Justice (CESJ) will have a virtual film screening of "The Pushouts," a short documentary that reviews significant race, class and power issues and the American dream at 3 p.m. Thursday, March 11, via Zoom. After the screening, students can participate in a panel discussion moderated by Victor Rios, associate dean of social sciences and professor of sociology at the University of California Santa Barbara. Rios has worked with local school districts to create programs and curricula directed at improving interactions between authority figures and youths. Having experienced living on the streets, dropping out of school and being incarcerated as a juvenile, he has developed interventions for marginalized students focusing on personal transformation and civic engagement. The panel includes current and former SBCC students who have overcome educational barriers, including Miguel Cruz, Isaac Zamora and Lisandra Barrera Rising.
-City College is spending the $11.9 million awarded by the Federal Government Higher Education Emergency Relief Fund II (HEERF) on a variety of COVID-19 resources, including hand sanitizing stations, personal protective equipment and outdoor classroom options. A minimum of $2.8 million is required to be spent on direct aid to students with any remaining to be spent by institutional needs by June 30, 2022. 
-The SBCC School of Extended Learning announced its free Back-to-Work program to help unemployed Santa Barbara County community members who have lost jobs or been forced to work fewer hours due to COVID-19. Students receive grant funding towards the cost of attendance or for emergency costs that arise due to coronavirus, such as food, housing and health care or child care. Participating students will complete an eight-week, 32-hour training program that meets Monday-Friday via Zoom. Space is limited, and programs begin as early as March 15, with sign-up deadlines on Tuesday, March 9.