Community gathers to grieve loss of Adolfo and Mary-Jane Corral
Over 150 people gathered on Cathedral Oaks Road on Monday night to grieve the sudden deaths of City College's Adolfo Corral and his wife Mary-Jane Becerra Corral. 
Dozens of friends, family and community members spoke at the ceremony. 
Standing in front of an impromptu memorial, they shared stories, memories and prayers in front of a solemn crowd. 
People laid down flowers, candles and signs near a large portrait of Adolfo and Mary-Jane.
Dahlia, one of Mary-Jane and Adolfo's daughters, wrote a poem for her mother that Alicia Almada, a family friend, read out loud.
"Madre, gracias por la vida," Almada read.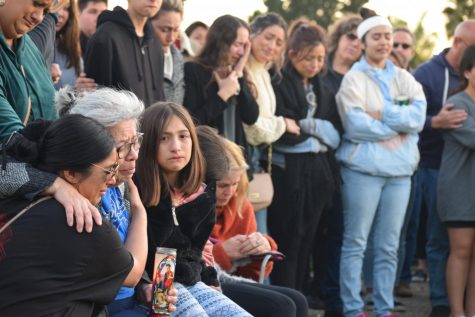 "We heard commotion last night," said Irene Hernandez, one of the first to arrive on the scene of the accident. "I called 9-1-1."
Hernandez and her daughter Ashley Luna live across the street from where the incident occurred. After the two heard the crash, Luna rushed to the scene to help and provide comfort to Mary-Jane. 
"I sat with Mary-Jane, prayed with her and brushed her hair," Luna said. "There was a prayer with them."
Adolfo and Mary-Jane both worked in the education field. Mary-Jane was a computer specialist at the Goleta Union School District and Adolfo was the equity, diversity, and cultural competency coordinator at City College.
Goleta's Mayor Paula Perotte and Councilmembers James Kyriaco and Stuart Kasdin came and expressed their support for the family and the community.
"On behalf of the city, we see you and we hear you," Kyriaco said. "Their lives mattered and you matter."