Weed has long been considered an element of the underground counterculture, but in recent years the attitude around marijuana has shifted and given it an air of legitimacy.
When marijuana was legalized for recreational use in California, The Farmacy was the first dispensary on the scene in Santa Barbara.
Located at 128 W. Mission Street, the store has been open since August and serves anyone of legal age with no need for a medical card or prescription.
"This store is about local people and local values," said Leialoha Cail, the general manager of the store.
Story continues below advertisement
"This is history in the making," she said.
Upon entering the dispensary, after a good-natured security guard verifies that the customer is indeed 21, one is faced with a pleasantly lit room with products lining the walls. There are Farmacy-themed shirts, hats and water bottles, a wide variety of cannabis-infused foods like chocolates, gummies, honey and olive oil, and vaporizer oils carefully labeled with a THC to CBD ratio.
In the center of the room is an assortment of marijuana strains in traditional bud form, displayed in glass cases next to cards that name and describe them. The employees are helpful and knowledgeable about the products they sell. 
Lily Hershman, a "budtender" at The Farmacy, said that the most popular products are "flower," the most traditional way to buy marijuana, including pre-rolled joints. She also said that edibles are a close second.
When asked about the demographics that she sees in the dispensary, Hershman said, "There's such a wide range. We get everyone from 21-year-olds to 91-year-olds."
She explained that many of the younger buyers are looking for something to smoke at concerts while older customers are often looking for edibles, oils or tinctures.
The variety of prices at The Farmacy is wide, ranging from $4 gummies to higher-end items costing over $100.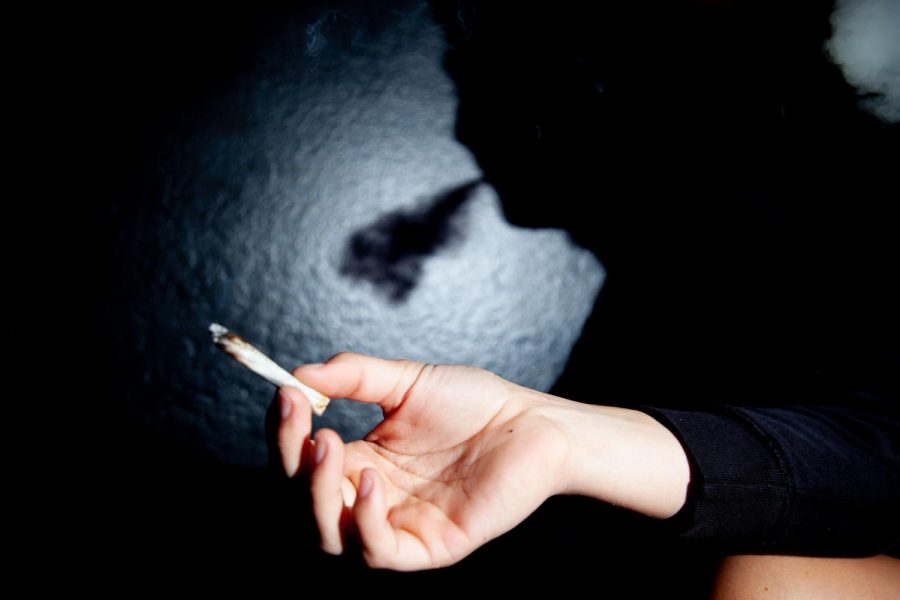 Coastal Dispensary joined the Farmacy as the second recreational cannabis store last September. 
Located on Chapala Street directly across from the MTD Transit Center, the large, open space displays its products in glass cases that make the dispensary feel somewhere between a high-end jewelry boutique and an Apple Store showroom.
There is an overwhelming number of options, with over 400 different products ranging from pure flower and pre-rolls to THC-infused teas, bottled sodas and vape cartridges. There are gourmet chocolate bars, gummies and all sorts of creams, tablets and tinctures.
The teas and sodas are a step in a new direction for recreational marijuana use, providing a unique experience for people that may be uncomfortable with the idea of smoking.
Every product is regulated every step of the way and is available with varying levels of cannabinoids THC and CBD, which are the compounds that release the relaxing effects throughout the body.
This helps customers decide what type of experience they are looking for. THC is more psychoactive, and higher levels of THC deliver the mind-altering "high," whereas CBD tends to be used for pain relief and its calming effects.
CBD has become popular in health food stores and is used widely for headaches, arthritis or digestive issues.
The "budtenders" at Coastal Dispensary are friendly, helpful and informative, and are eager to answer questions or make recommendations.
"We are creating a culture," said Devon Wardlow, director of public affairs. "Coastal is committed to highlighting the importance of a healthy, happy lifestyle."
The prices of recreational cannabis often run higher than medical cannabis due to the addition of a 14% state tax. An eighth (3.5 grams) ranges from $30-$60 depending on the strain, and pre-rolls are sold in packs of seven for $35 or singles for about $15.
The rebranding of marijuana in recent years is a growing movement not only on the west coast but across the country, with full legalization in 11 states. 
There is a growing number of first-time customers, and Coastal has recently expanded with locations in Lompoc and San Luis Obispo.
While The Farmacy and Coastal are the first two to open in Santa Barbara, perhaps someday the dispensary will become as commonplace as CVS and Walgreens.