A Metropolitan Transit District bus swerved up the sidewalk and into a bus bench Wednesday, killing one pedestrian and injuring several others.
Pedro Orozco, a manager at the Mexican restaurant Los Arroyos, located slightly up the street from the scene of the accident, was taking a customer's order when he heard the crash.
"I ran outside and the bus was still rolling up the sidewalk," he said. 
Orozco described seeing a woman get dragged under the bus.
Story continues below advertisement
"I heard everyone screaming," he said. "It was horrible."
Anthony Wagner, public information officer for the Santa Barbara Police Department, confirmed that Eve Debra Johnson, 67, was sitting on a bench and had been killed by the crash and an unidentified man was "catastrophically injured." 
Victims aboard the bus sustained minor to moderate injuries. According to Wagner, at least two were taken to the hospital.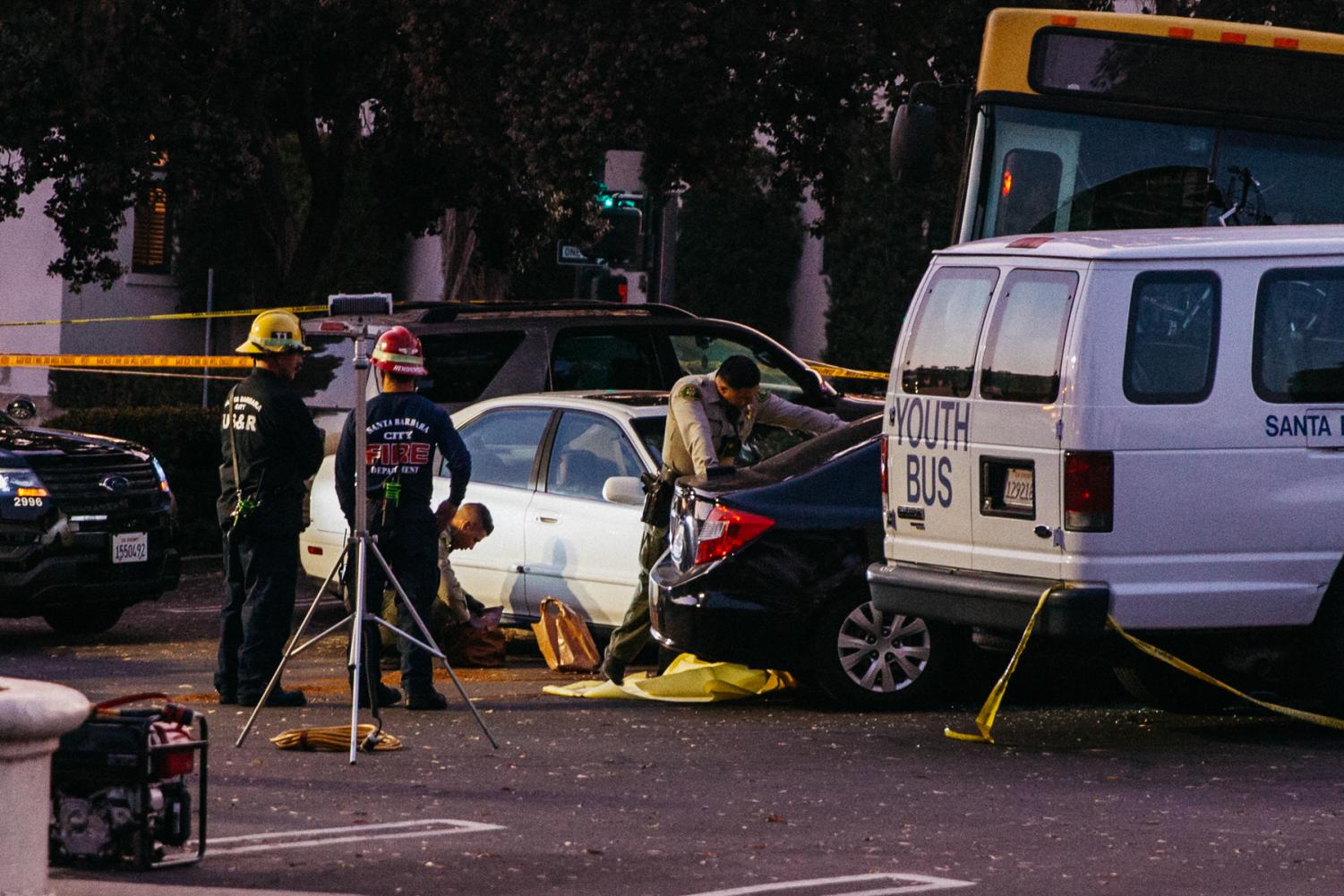 Following the accident, hoards of people waited at the corner of Chapala and West Anapamu Street for their delayed busses, as MTD employees coordinated with each other over walkie talkies. 
"There is lots of traffic and everyone is crowded," said City College student Skyler Marrison. "It's chaotic."
Marrison and several other City College students had not witnessed the accident and only realized what happened after arriving at the scene.
"I am not surprised this happened," said Dalia Morales, owner of Dalia's Beauty Salon. 
Morales' salon sits across the parking lot from the temporary transit center.
She had not witnessed the accident but claimed she had seen bus drivers recklessly pull up to the stop many times before. 
"They have no respect for pedestrians," she said. "They drive so aggressively."
The cause of the crash is currently under investigation.
Editor's Note: This story was updated with the victim's name and age at 10:35 a.m. on Friday, Oct. 11.