Student government hosts first 'meet & eat with your reps' event
A haunted house, jolly jumps, and egg chairs are just some of the few suggestions The Student Senate received from questionnaires given out to the students at their Tuesday event.
The "Meet & Eat with your Reps" event was the Associated Student Government's first event this year and was planned with the intent of promoting unity and getting to know the students on campus.
Although the student senate room was small, there was a student in every chair at the table deep in conversation with the people around them as music played in the background, which gave the event a more casual feel.
Many students in the room were prospective students who attended the event to learn more about the people on senate and how it works like Emily Hayman, a student who said she is interested in the vacant vice president of internal affairs position. Hayman said she thinks there should be more transparency and student involvement in ASG.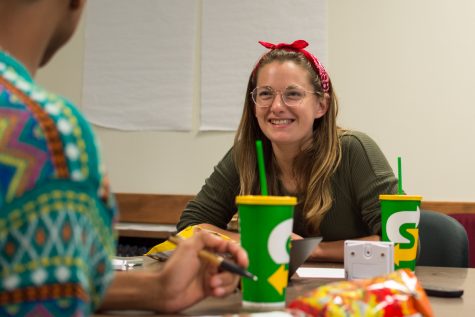 "I think there's a lot of stuff that goes on here that people don't know about outside of this room and I don't think that's fair," Hayman said. "People should know what's going on in our school and the student body as a whole should be more actively involved in making the decisions that are made here in this room."
There were many ideas proposed by students via questionnaires that asked what types of activities they would like to see from ASG, such as a three piece art event or a music event.
The event which was brought up at the senate's first meeting of the semester is one of the first steps ASG is planning on doing this year to gets students involved. Josh Villanueva, ASG President, said that the senate is also considering putting food out by the ASG offices to encourage students to stop by.
"I want to cut down the formality of everything and just make students comfortable when they come into these ASG offices," Villanueva said.
As President, Villanueva said that due to his position, he mostly interacts with people on the administrative level, so this sort of event where he was able to talk to students was "a nice flip for once."
As two o'clock rolled around, Villanueva and vice president of external affairs Vanessa Vera were of the few that remained in the room.
Vera said that half of her conversations were with prospective senate members, but the other half were with people who were genuinely curious about what goes on in ASG and how ASG "influences the students."
"This is an organization that actively moves to do things for the students and the campus," Vera said. "And for some that didn't know that they had that type of voice it was really nice being able to expand that idea"