SBCC crime recap: disabled placard misuse, verbal abuse
Over the last 9 months, a total of 200 crimes have been reported spanning across 30 different West Campus, East Campus and off campus locations at City College.
Both Fall 2017 and Spring 2018 have shown a pattern of crime hitting its peak during the second month into the semesters.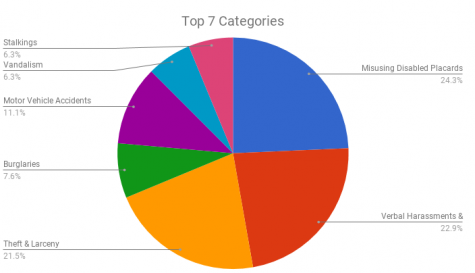 Leading in the numbers are individuals misusing the disabled placards in the parking lots and verbal harassments. Following those top crimes are stalkings, burglary, theft, vandalism and motor vehicle accidents.
"It's unfortunate because this is a college campus with a lot of adults and so we would expect people to behave better toward each other," said Director of Security Erik Fricke. "A lot of it breaks down to immaturity and not being able to find ways to put aside any issues."
According to Fricke, both burglary and actions of opportunity like theft are highly expected to occur on campus and are consistently reported. Campus Security suspects, however, that only a fraction of stalkings are actually getting reported.
"Stalkings are left to the interpretation of the victim," Fricke said. "Sometimes people don't report it because they feel it'll make matters worse or that they just don't want to believe that it's really an issue."
Similar to sexual abuse, embarrassment or blame can stop the person from reporting stalking.
Although City College's monitoring systems don't directly protect students and staff, the security cameras have acted as a deterrent for the suspects and have improved officers' data tracking. Campus Security also suggested installing cameras at both ends of the bridge, due to it being a high traffic area.

An average of 21 crimes per month have been documented. Illegal weaponry, robberies and property damages have only appeared once through both semesters. Both students and faculty are ten times more likely to receive a parking ticket than to be physically assaulted by someone on campus.
In addition to Campus Security's daily crime entries, the Student Concern Reports and Behavioral Intervention Team have been beneficial in addressing students' concerning behaviors before they escalate.
Since 2013 the team has been receiving these reports, catching early warnings signs, and connecting with struggling students as best as they can.
"It's a great way of early detection," said Fricke. "It gives the team a chance to make an evaluation, offer support and clutch the student's behavior."
The Student Concern Reports are generated by a wide range of behaviors. Due to the overwhelming stress of midterms, finals and graduation, the most notable pattern includes students showing a significant decline in class engagement towards the end of a semester. The instructors who make these reports are typically concerned for the well-being of their students.
Both the Student Concern Reports and Behavioral Intervention Team reported a total of 103 reports last Fall and 148 reports this Spring.
Despite Campus Security being viewed as punitive, Fricke urged students to follow the phrase "see something, say something."
Our goal is to keep providing the support for students," Fricke said. "We'd like to see students more aware of their surroundings and to report things that don't seem right."