Students frustrated over lack of official response to the faculty colloquium controversy
During its public comment section in its meeting Friday, April 13, the student senate heard from students who were concerned about the lack of available information regarding important issues on campus.
The comments made were in part as a response to recent controversy surrounding a colloquium speaker sending legal threats to Chemistry Chair Dr. Raeanne Napoleon.
While no action was taken during public comment, the senate approved a motion earlier in the meeting to allow commissioner of marketing Kenyon Newhouse to release a statement addressing the senate's involvement with the colloquium.
According to Christian Walk, Chairman of the Feminist Club and former commissioner of academics on the Student Senate, this is not the first time students have been left in the dark.
"I am a student who was in a philosophy class who halfway through the semester my professor was pulled out of that class with no explanation to any of us of why he was pulled," Walk said.
"We don't have accurate or reliable information from the people who are supposed to be giving us that. . . it's up to you guys to figure out a way to provide some accurate information where there's a situation where maybe they think it's all faculty, but it affects all of us."
Melissa Cook, a representative from the Feminist Club, read in a prepared statement from the club that it recommends the senate take action in response to the treatment of Napoleon by City College's administration in regards to the lawsuit threats given to her.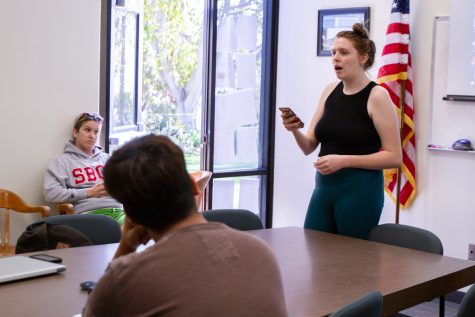 "SBCC claims to value the safety and well-being of all students, and our club, as well as many other campus members, agree that this issue needs to be addressed by SBCC," said the statement, "and as representatives of the campus, [the student senate] must be at the forefront of that."
Krystle Farmer said she believes that a bigger issue is this campus neglecting women.
"It goes past communication at this point, I've endured it here. I know a lot of faculty, women of color, women period that are feeling very silenced," Farmer said. "They don't wanna speak, they're scared and it's gotta stop."
Farmer also said she would go as far as [the student senate] not supporting colloquiums and called Mark McIntire — who directs the colloquiums — a "bully."
Before the statement by the Feminist Club was read, senate president Joshua Villanueva said that because the senate doesn't have access to all-campus emails, they haven't seen a lot of what's being sent around in emails and don't necessarily know what's going on.
"We have also been I feel like, misinformed throughout the way because of the silence from the administration," said Cook about the Feminist Club. "We're open to ideas, we just want something to happen."