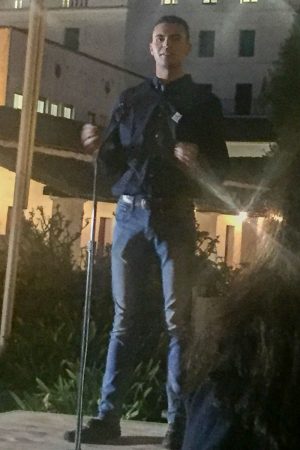 Pacific Pride Foundation held "A Community Response Against Hate" rally on Nov. 16, in De La Guerra Plaza to address a hate crime and stand in solidarity.
The rally was planned after Ethan Bertrand, an openly gay former Associated Student Government officer and current board president of the Isla Vista Community Service District, was the victim of a homophobic verbal attack by James Gelb, a local property owner.
"These are our human rights, inalienable, and yet in need of near constant protection," said Patrick Lya Lanier, LGBTQ program director of Pacific Pride Foundation.
From the 2016 FBI hate crime reports, all targeted minorities are experiencing increased hate-based violence, Lanier said.
Story continues below advertisement
"Hey, I'm proud to be gay," Bertrand said to the rally, eliciting cheers from the crowd of about 80 people.
"I'm so glad we're coming together as a community tonight to denounce hate."
There are many unnoticed incidences in Santa Barbara where hate appears— including incidences against LGBTQ, women, immigrants, homeless and people with mental illnesses, Bertrand said.
"I take pride that we're coming out and saying 'not again,'" Bertrand said.
"When LGBTQ teenagers— like me a few years ago— no longer question their self-worth in this world, that's when we can end this."
Bertrand believes that until there is an end to hate, discrimination, and bigotry, this work needs to continue. He has received hundreds of messages from people around the county who are appalled at this happening, he said.
"Hate crimes against LGBTQ individuals, people of color, and especially against people perceived as refugees is on the rise. We have to yell it out against the world that this is not what we're about as a nation," said Supervisor Das Williams.
When someone witnesses an incident, he or she or they can take out their phones, record it, and call the police, said Michal Lynch from Women's March Santa Barbara.
"The person that's being abused does not feel safe. But if you walk over and stand next to them, you've made them 10 times safer," Lynch said.
Bertrand's friend recorded the video of the incident on his phone.
"Here we are again, a homophobic bully who thinks he can use his privilege to intimidate and harass us. Haven't we moved past this hatred and intolerance," said Council Member Kyle Richards.
"Haven't we learned to not only tolerate each other but to embrace each other's difference and value each member of our community? Haven't we learned our diversity is our strength and not just something to be tolerated?"
The crowd applauded to the fact that the District Attorney has filed a charge.
"I'm here for you. We're all here for you," concluded Jordan Killebrew with Black Lives Matter Santa Barbara.
Other speakers included city council member Gregg Hart, new Mayor Cathy Murillo and  Stefanie Ramirez speaking on behalf of assemblymember Monique Limon.