First Fall faculty colloquium tackles religion and violence
In the first faculty colloquium of the fall semester, a Cal Poly religion professor attempted to tease apart the strands in the gordian knot of violence and religion.
Dr. Adam benShea, who teaches classes in philosophy and religion at the San Luis Obispo campus, spoke to a crowd of about 100 Thursday night at the Fe Bland Forum. The colloquium was sponsored by the Open Mind Project, a campus club that promotes free speech.
The colloquium was opened by philosophy instructor Mark McIntire. BenShea was joined on the stage by City College philosophy instructor Dr. Theodore Faulders.
Holding a doctorate in religion and having spent time in Jerusalem, benShea pulled lecture slides from his Cal Poly class titled "Religion and Violence." He analyzed an issue being grappled with in virtually every corner of the world—religious fundamentalism and its relationship to violence and terrorism.
"There isn't a single terrorist or extremist out there that sees themselves as the aggressor… as the one beginning the conflict," he explained.
BenShea structured his presentation around what he argued are five core themes present in all forms of religious fundamentalism: defensive action, text as authority, sacred land, sacred time, and absolute truth.
He gave a brief but sweeping account of some of recent history's most extremist religious figures, including Osama Bin Laden and 1996-Hebron shooter Baruch Goldstein. He then waded into the deeper waters of religious fundamentalist psychology.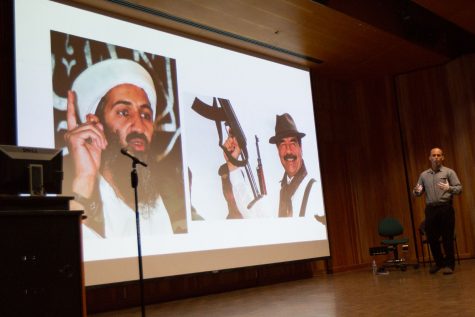 Religious extremists feel they are taking defensive action as their individual and group identity feels threatened. This steady marginalization then pushes them to violent extremes, so benShea said.
At City College, the colloquiums take the form of a central question that is addressed by faculty members from different diciplines. Students are invited to join in at the end with questions. Previous colloquiums addressed climate change, female reproductive rights, and pseudoscience and scientific literacy.
Speaking in a calm and measured tone—forming a stark contrast to the harsh tenor of his subject matter—benShea explained that fundamentalists read a central text literally and elevate geographical regions, as well as earlier eras, to sacredness and perfection. They also claim a full monopoly on truth.
His point about fundamentalist perspectives on absolute truth touches on the effects of globalization and modernity. BenShea claimed these effects enabled religious plurality and created of crisis of choice.
With "different routes of identity offered" and modernity heralding the notion that "all paths of religious truth [are] on par with one another," benShea characterized religious fundamentalists as those desperate to find an ultimate truth, a theological bedrock.
Responding to a student question, benShea said his motives are never to exonerate or excuse terrorism, but rather "to get students to understand the arguments."
"You have a responsibility to understand some of the arguments that are put forward," he said. "…to be able to do your part, you need to understand certain language and the significance of certain histories."
---
Clarification:
This story has been updated to fix grammatical errors.