Five-car collision causes traffic on Cliff Drive, no victims injured
A five-car pileup caused by a red light traffic jam closed two lanes on Cliff Drive around 1 p.m. on Monday, Aug. 28.
Everybody involved in the collision walked away without injuries and only one car was seriously damaged. Four cop cars arrived to the scene to assist the drivers. Three out of the five cars were occupied by students.
"I think everyone was going too fast and stuff…. My car is the one in the front. Fortunately my car isn't the worst, but I was definitely hit the hardest," City College Student Harley Adams said.
Elizabeth Brown, another student, initiated the rear ending in her White Land Rover. Brown said she wasn't expecting a red light when coming around the bend in the road. She didn't brake fast enough and hit Sacramento Jimenez's Toyota Corolla.
The Corolla collided into the back of Tom Widder's Toyota Tacoma. Jimenez's vehicle endured the most damage. Oil spilled out of his car and was covered up with sand by first responders as a safety precaution. His smashed hood also caused his front bumper to almost completely fall off.
Evan Elzenberger is a City College student who drove the Honda Pilot that was hit next in the lineup. His car rear-ended Adam's car, which was where the domino effect of fender benders came to an end.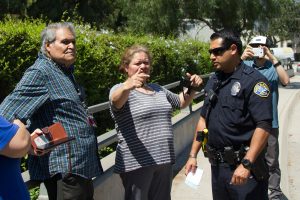 The Channels conducted an interview with Jimenez in Spanish:
"I was there and the line of cars had stopped at the light. She got there and didn't stop and rear ended me, then I hit the other car which hit the rest. I just dropped off my granddaughter at the college, all I need to do now is talk to the police to tell them what happened," he said.
All lanes on Cliff Drive were reopened after the Corolla was cleared out of the way by a tow truck.
"I'm ready to eat some lunch that's like, really good," Brown told The Channels.