The Disabled Student Programs and Services department and the Health and Wellness Center offer a variety of services and resources to City College students in need.
Both departments focus on the well-being of the students and their offices are located across the hall from each other, on the first floor of the Student Services Building on East Campus.
While they are separate departments, they go hand-in-hand and help each other out on a regular basis. Cross-referrals are made at least once per week.
"We certainly appreciate and understand how complex it is to be in a college setting with a mental health issue," said Jana Garnett, director of disabled student programs and services. "There's not a one-size fits all here."
Story continues below advertisement
The purpose of the programs is to help students with medical, psychological or comorbid impairments so that they have the opportunity to be academically successful at City College. Some of the accommodations include extended testing time, specialized tutoring, scribes, audiobooks and attendance consideration.
"We really try to individualize the way we respond to each and every student based on their disability and their limitations and the class that they're in and what they're dealing with," Garnett said. "There are no two situations that are alike. Each one is unique."
Eduardo Cardenas is one of the many student employees who work for the program. He emphasized the friendly environment of the department and the dedication to help students in need.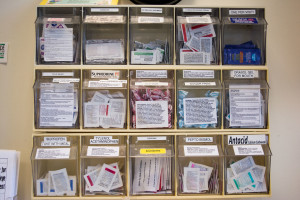 "They're really on top of their stuff," Cardenas said. "Every time I come in, we're always packed to the brim and we're always doing our best to help that one student that just can't do the scheduled time."
The Health and Wellness Center offers over-the-counter supplies, illness assessment, first aid, sexual health services, psychological counseling, and shots and vaccinations to students who are enrolled in an at least one on-campus class.
Students can have up to six personal counseling sessions per semester. Appointments can be made by calling the center or by walking into the office. The various issues that the counselors encounter range from homesickness and relationships to sexual assault and suicide prevention.
"People come in with everything you can imagine," said Alyson Bostwick, a licensed marriage and family therapist who is a full-time counselor at City College. "The top presenting issues would probably be any kind of stress or anxiety and depression."
The center has nine counselors, and an additional two who focus specifically on alcohol and other drugs. The department books about 110 personal counseling appointments per week. Students are recommended to schedule their appointments a few weeks in advance because it's usually booked about a week out.
"You don't have to have something very serious going on to see a counselor," Bostwick said. "It feels really good to talk to someone who's just there for you. All the people that we have here, in my opinion, are very approachable and they're compassionate and caring."