SBCC's Culinary Arts Program provides a recipe for success
From butter knives to chef knives, students in the Culinary Arts Program have grown from amateurs to professionals.
After flipping burgers in North Dakota with a Liberal Arts degree, Brice Parlant made the decision to join the Culinary Arts Program at City College.
"There's nothing that freaks me out more than people who can't stop to eat," Parlant said. "You see that more and more."
Parlant grew up in the south of France then came to City College where he graduated with an associate degree in Liberal Arts. However, after a job in North Dakota he realized he wanted to cook professionally.
"It takes a lot of hours," Parlant said. "It's not by going to I.V. every night and drinking that you're going to achieve that."
The motorcycle trip that sparked his initial interest in food began when he rode his bike to Canada and worked on his family's ranch. From there, he went to North Dakota where he stayed for the summer.
"They're still conquering the west," Parlant said. "Cowboy hats and country music and horses… No kidding. Bar fights every weekend."
Resting outside the JSB Café, Parlant wears his chef coat from the Indonesian restaurant Sama Sama and it is easy to see the burns across his forearms from cooking accidents. Parlant is a line cook at the restaurant and said the staff is like a family.
"It's one of the most hip places in town," Parlant said. "A lot of pretty ladies, rich people, stars… We had Pink at the restaurant last time."
While Parlant has a passion for food, his broader goal in life is to live simply. He eventually wants to live on a farm with a wife and kids in the south of France.
"I think it's how we're meant to be," Parlant said. "I think, especially here in the States, people have forgotten how to enjoy themselves, and actually relax and sit down for a second and do nothing."
He continues that opening a restaurant may happen in the process, but said "It's not my key to happiness."
---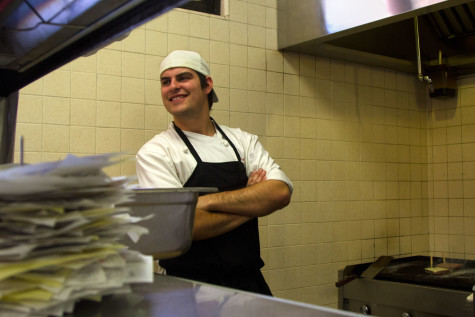 He started out eating escargot in his high chair as a child and now Pierre-Alexandre Tremblay is cultivating his love for food at City College.
"I never thought I could make something like that work," Tremblay said. "Because work always seemed something very dreadful."
At Dos Pueblos High School, he was president of the Engineering Club. However, after studying mechanical engineering for 3 years at a university in Montreal, Tremblay dropped out and moved back to Santa Barbara to join the Culinary Arts Program.
"When you don't like something and it obviously shows," Tremblay said. "You can't follow that path."
Tremblay said the hardest part of the program is the physical strain that comes from his over 50-hour workweek.
His weekday starts at 9:30 a.m. where he works at the JSB Café until 2:30 p.m. After that, he heads over to his job as a line chef at the downtown bistro Julienne, where he cooks from 3:00 to 10:00 p.m.
"You learn to tolerate things a little differently," Tremblay said. "Problems are not the same."
Things like going out in Isla Vista are not even on his radar.
"I'm here to learn," Tremblay said. "And if that's not happening, that's when I'm, like, not stoked to be here."
Before his shift at the café, Tremblay flips through his set of spiral-bound index cards, transferring old recipes onto newer, neater cards.
His favorite part of the workday comes from watching customers at Julienne enjoy and discuss their food.
"What we have made has given someone a positive experience, has impacted them in some way," Tremblay said. "They just made a memory."
---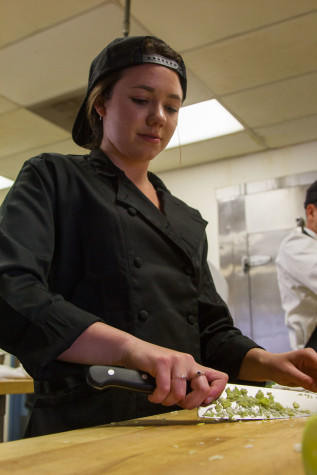 Madeline Dyer is a Culinary Arts student preparing for the day she will take over her family's restaurant business.
Dyer grew up in Grass Valley, where she was exposed at an early age to the business behind her parent's restaurants.
"I remember standing behind the counter with my little sister, chopping mushrooms with a butter knife," said Dyer. "We had to stand on crates."
In her second year at City College, Dyer said that she's amazed at how many people have no idea that the Culinary Arts students cook most of the food on campus.
At 7:30 a.m. on Wednesdays, Dyer has a butchery class.
"Its really awesome," said Dyer, "And if we do get freaked out, we can walk around and get fresh air. Last Wednesday, he brought in an entire pig."
Thursday is a twelve-hour day for Dyer, who works with other fourth year culinary students every Thursday and Friday to design a menu for the John Dunn Gourmet Dining Room.
"We basically get to open a restaurant as a class," said Dyer.
She stands in a black shirt and backwards baseball cap, cutting vegetables for a broth while her fellow students in white chef coats bustle back and forth between pantries and the classroom.
Dyer is mostly influenced by her father and by Chef Fredericks, who she says is, "not only a teacher, he's our friend. He is super passionate and creates a fun learning environment."
After finishing the program at City College, Dyer plans to attend a restaurant and hotel management school in Las Vegas for two years.
"I like service," said Dyer. "The business side of things."
Her parents own three restaurants, South Pine Cafe with locations in Grass Valley and Nevada City and Pine Street Burgers in Grass Valley.
Eventually, Dyer wants to return home and take them over, possibly opening up one more of her own.