SBCC culinary alumni thrives at local award-winning restaurant
Cynthia "Cindy" Black sits in a glittery-red booth in her hipster-esque restaurant, a rare break during her usual 15-to-20-hour weekend shift.
Black, 36, is alumnae from City College's Culinary Arts program and self-proclaimed cook and restaurateur. She is the founder and owner of The Blue Owl restaurant at 5 West Canon Perdido Street, which is open Wednesday to Saturday for lunch and dinner, and weekend late nights.
The Blue Owl, which just celebrated its sixth anniversary September, has been awarded a number of accolades, including its most recent nomination for the Best of Late Night Eats award for the second year in a row from the Santa Barbara Independent.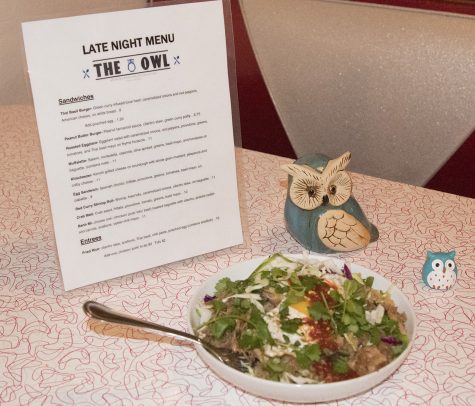 The restaurant has both day-time and late-night menus. Day-time items range from a crab melt and eggplant sandwich to a Bahn Mi sandwich, currently a local favorite. The Bahn Mi has roast beef, pickled veggies and oyster-chili mayo. Late night dishes switch to a red curry shrimp roll and peanut butter burger, also a favorite for a night out on the weekends.
Despite its success, business was not always fruitful for the Asian fusion restaurant. The Blue Owl first began as a pop-up out of Zen Yai restaurant on State Street, which opened as a late-night weekend spot. Black said initially she felt anxious and scared when introducing the establishment to Santa Barbara.
"Some nights nobody would stop by to try the restaurant," she said, "a lot of nights I wanted to cry wondering if anyone would come."
The Blue Owl eventually emerged from its Zen Yai residence in 2012 to its current location at Canon Perdido. In December 2015 the restaurant expanded by removing a wall to create dining room space and also obtained its alcohol license. In March, the restaurant added dinner to its menu.
In spite of her culinary achievements, Black said she never thought she would be a cook.
"I thought I'd be an engineer, or on 'Saturday Night Live,'" Black said. "I just went to cooking school."
She said she first began her kitchen experience by cooking with her grandparents and canning fruit with her great grandmother using produce from her orchard. She was originally drawn to Santa Barbara because at the time her sister was attending UCSB, and the affordable cost of City College's Culinary Arts program.
"Cooking school is really expensive," she added.
According to the City College website, the current cost for the three year Culinary Arts program is approximately $7,000, which includes tuition fees, books and supplies. Le Cordon Bleu College of Culinary Arts-Pasadena, for comparison, is approximately $13,000 in tuition fees.
Black began her first semester taking baking and sanitation classes one day a week. She said she enjoyed the classes so much that she enrolled as a full time student while working full time simultaneously.
Chef Mayuree Leelahatorn, the pastry chef instructor in the culinary arts program, said Black was very interested in the subject of culinary arts and gave it her all.
"At first she didn't know a whole lot about this cooking and baking," Leelahatorn said. "A lot of it was new to her."
During the program, Black said she learned how to work with different kinds of people in the kitchen. These people skills became essential to Black in opening her restaurant and dealing with employees and customers.
"I hate being a boss," she said, "but I love the customers and I love to feed people. It's a great job."
Leelahatorn advised current students wanting to get into the culinary business that the dream is possible through hard work.
"Kitchen work is not easy. You have to hustle every day," Black said. "You just have to go in and do the best you can."