New East Campus Burrito Shack is saucy, pricey experience
Channels Arts Pages | STAFF REVIEW
I like all types of Mexican food, but because I'm from the other side of the world, I've only heard of the burrito chain called Chipotle. I've never tried it, however.
Since I am a Chipotle virgin, the new East Campus Burrito Shack reminds me a lot of Subway. It's located outside the Campus Center's main entrance, a place where I can build my own Mexican masterpiece.
I think I have the best taste for food in the world, so I had high hopes for the Shack. But it wasn't close to my expectations. I had hoped for much more.
The Shack works exactly like the well-known burrito chain except that you can't eat inside because it's so small. You'll have to enjoy the weather outside instead.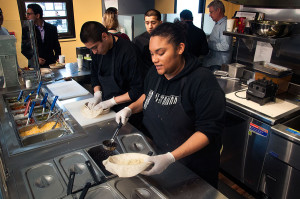 The menu has eight items, and I ordered a full-size chicken burrito. It was about the length of a kitten and as thick as a coffee mug.
A burrito meal that includes a drink is about $8, depending on what kind of burrito you want. The most expensive meal you can get is more than $12, including chips on the side.
Subway came back to me while I ordered. You begin by choosing something you want from the menu. Next, you can choose a combinations of rice, beans, vegetables and several kinds of regular and hot salsas.
The worker who made my chicken burrito looked like a professional chef in his white apron. As we tried to talk to each other, the sneeze-protecting glass worked as a sound shield. We almost started using sign language to communicate.
After the first bite of my burrito I started doubting whether I wanted to finish it all. The overload of sauce threatened to leak from the tortilla in my hands.
It was packed to the edge of self-destruction, getting worse as I ate. Everything inside started pouring out when I got halfway through. There were a lot of great ingredients but I wished that they were mixed inside the burrito instead of separate. In one bite there was dry chicken and lettuce. Another had a lot of bean sauce and a few beans.
The more I ate my Mexican Subway sandwich the better it got, and somehow I ended up eating almost all of it. There was one spot where the ingredients were mixed together and that was good.
My friends and I had fun sitting outside in the warm weather, but no one seemed to think that the food was worth mentioning. The food wasn't fantastic but it did its job and we walked away full.
Would I recommend The Burrito Shack? If you crave a thick burrito that might burst in your hands and a view of the northeast side of campus, then absolutely.