City College Women's volleyball program compares land to sand
City College Women's Volleyball program has powerful indoor and beach teams. Although the two sports are the same, they differ in many ways. 
The majority of City College's beach volleyball roster includes players that were also a part of the women's indoor volleyball team in the fall, where they contributed to winning the WSC-North Championship. These players include freshman Jacelin McKie, freshman Karoline Ruiz and freshman Emma Crabbe. 
"There's obviously a huge difference between the two sports. One of them is the different types of endurance it requires to be successful on the beach. It's a different type of mental strength required," Crabbe Said. 
Crabbe was one of the team captains on the indoor team and won the Vaquero Award and First-team All-WSC.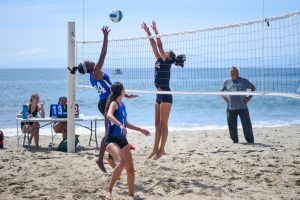 In beach volleyball, the girls compete in pairs. There are only two players on the court, so each player has a lot of responsibility. In addition, the weather and sun can affect players' sight, stamina and ball control. 
Indoor volleyball consists of six players on the court at a time. Therefore, there are substitutions and a lot less ground to cover per player. Also, with indoor volleyball, the weather does not play a factor. 
Ruiz was First Team All-WSC as well. She explained the benefits of playing both sports, "Though they differ in so many ways, learning how to play in both environments creates a well-rounded athlete." 
The women's volleyball stats from the fall and the stats from the current beach volleyball season prove how well-rounded and talented these athletes are. The beach volleyball team is currently 4-1, and the indoor team went 23-5 and a conference record of 8-2. As well as conquering the WSC-North Championship. 
Indoor women's volleyball coach Kat Niksto said, "Beach can also help with general ball control, and you bond differently with your partner."
Participating in both sports can improve a player's athletic skills. Indoor volleyball and beach volleyball are the same sport but use different techniques.
McKie, the WSC Libero of the Year in the fall season, said, "Playing on both indoor and beach help me with my ball control and volleyball IQ. I can read the court a lot easier and take accountability which forces me to play to the highest standard." 
Having a large majority of the players on the roster playing both indoor and beach volleyball helps City College build a flow and connection as a team. 
McKie explains the challenges of switching between the beach and indoor volleyball, "Beach volleyball is different in the way that your brain has to change. I have to use more brain power and increase my volleyball IQ in order to be successful."
Volleyball is a very mental game, as it is physical for athletes competing. Student-athletes have to balance their time between classes, practice, games, social life and homework. 
"It's super important to stay on top of school and your daily responsibilities. It's important to fuel your body and save time to rest both physically and mentally," said Crabbe. 
Niksto has seen how beneficial it is to compete on both teams for the City College volleyball programs.
She said, "In general, it will help us in the fall because the girls will be all together continuing to bond and working on their skills. Can't wait for the fall season." 
The Vaquero's next beach volleyball match day will be at home at 9 a.m. on Tuesday, March 22, against the College of Marin.