Dave Loveton found his true calling from inside the Vaqueros press box
Weeks before he was set to undergo surgery to remove his left kidney, Dave Loveton stood tall in the middle of the Sports Pavilion at City College as coaches, players, and fans rose to applaud him.
Loveton has been the Sports Information Specialist for City College since 2006. He runs the website, announces, keeps stats and writes stories after each game. 
"I guess you could say I wear a bunch of different hats," said Loveton.
Loveton, a longtime Lakers and Dodgers fan, grew up in Glendale, California, and was the sports editor of the newspapers at Glendale High, Glendale College and UCSB. He was the point guard on his high school basketball team and knew that after his playing days ended, he wanted to stay involved in sports any way he could, so he decided to pursue sports journalism. 
"I've always loved sports," Loveton said. 
Loveton joined the Santa Barbara News-Press after graduating from UCSB where he covered Santa Barbara sports. 
"I've seen more City College games than anyone in the world," he said. 
Loveton left the News-Press in 2005 and in 2006 he signed on as the Sports Information Specialist for City College. 
"We are one of the few schools that has one [SIS] but has an article for every game, every sport," said Athletic Director Rocco Constantino. 
After compiling the stats for every home game, Loveton writes stories with quotes from coaches and players. 
"I always want to try and make the reader feel like they were there," he said. 
Loveton doesn't have an office on campus but rarely needs one as he consistently jets from game to game, covering every detail of 20 City College teams that span across 14 different sports.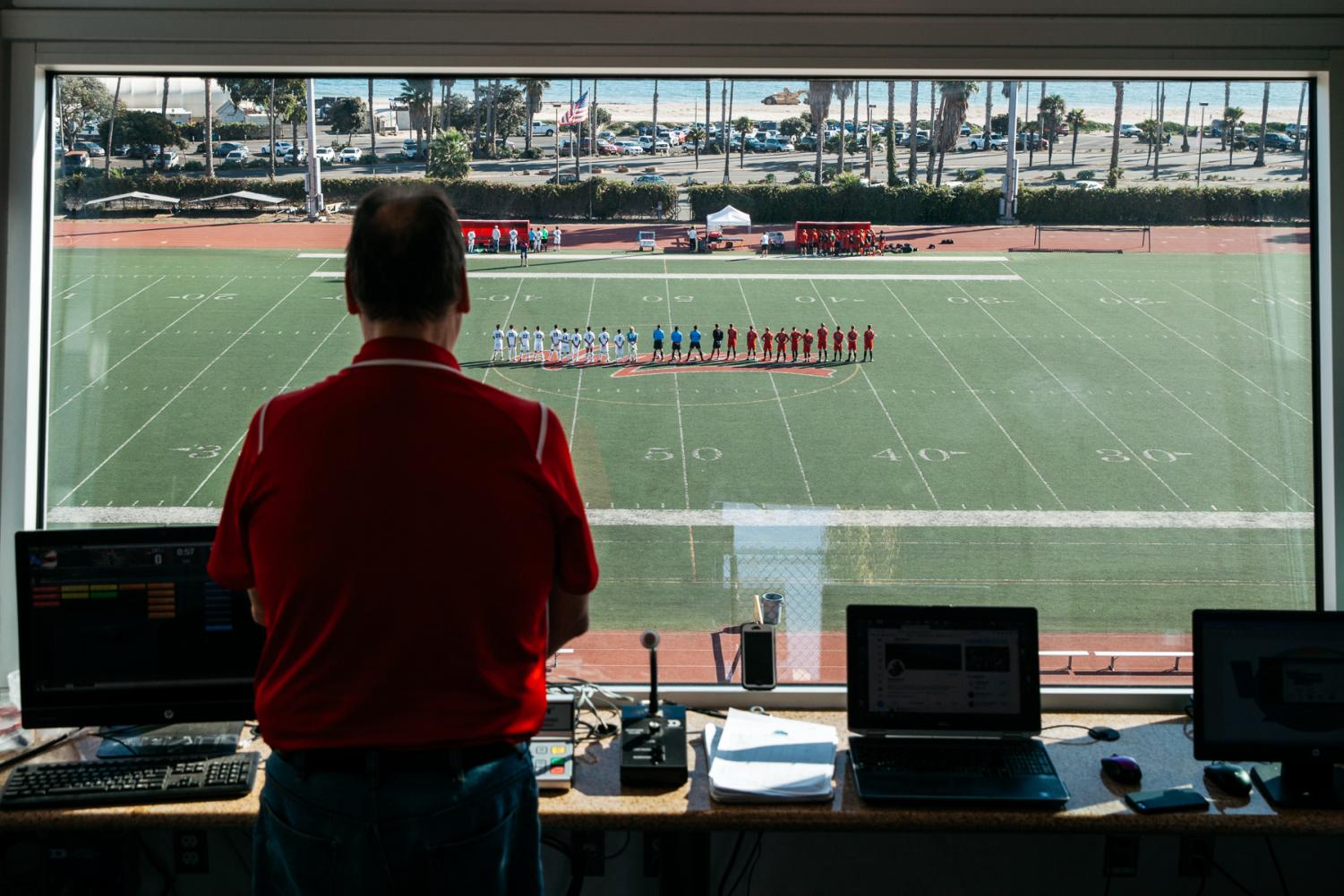 Loveton has made the press box his own.
"One of our biggest fears is Dave coming in and saying that he can't do it anymore," Constantino said. 
In January of 2018 Loveton was diagnosed with stage four kidney cancer. 
"It was pretty stunning and hard to digest," said Loveton. 
According to the American Cancer Society, the five-year survival rate for patients diagnosed with stage four kidney cancer is 8%. Loveton underwent surgery at Cottage Hospital to remove his left kidney and the cancer inside of it two months after he was diagnosed. 
"He's generally a positive guy but you get news like that and it's hard to keep your spirits up," said Constantino. 
Loveton was honored at City College's annual event "Coaches vs. Cancer" before his surgery. Former Superintendent-President Dr. Anthony Beebe presented him with the "Everyday Hero Award." Loveton also received a shirt with his signature on the back, and the words "Love for Loveton" in bold. 
"A lot of people came to the game to support me," he said. 
Loveton's surgery was a success and he has yet to need chemotherapy or radiation but does have to take the medication cabozantinib, commonly known by the brand-name Cabometyx, every day. 
"Even if the [cancer] was all gone, do I still have to take this pill my whole life?" Loveton said. 
In the 20 months since his surgery, the size of the remaining cancer has gone down and is becoming less and less visible in the CT scans he gets every three months.  
Loveton received six weeks of sick time after his operation.
In his absence, Constantino helped maintain the website and students helped with stats and stories.
Assistant coaches would help out with calling games.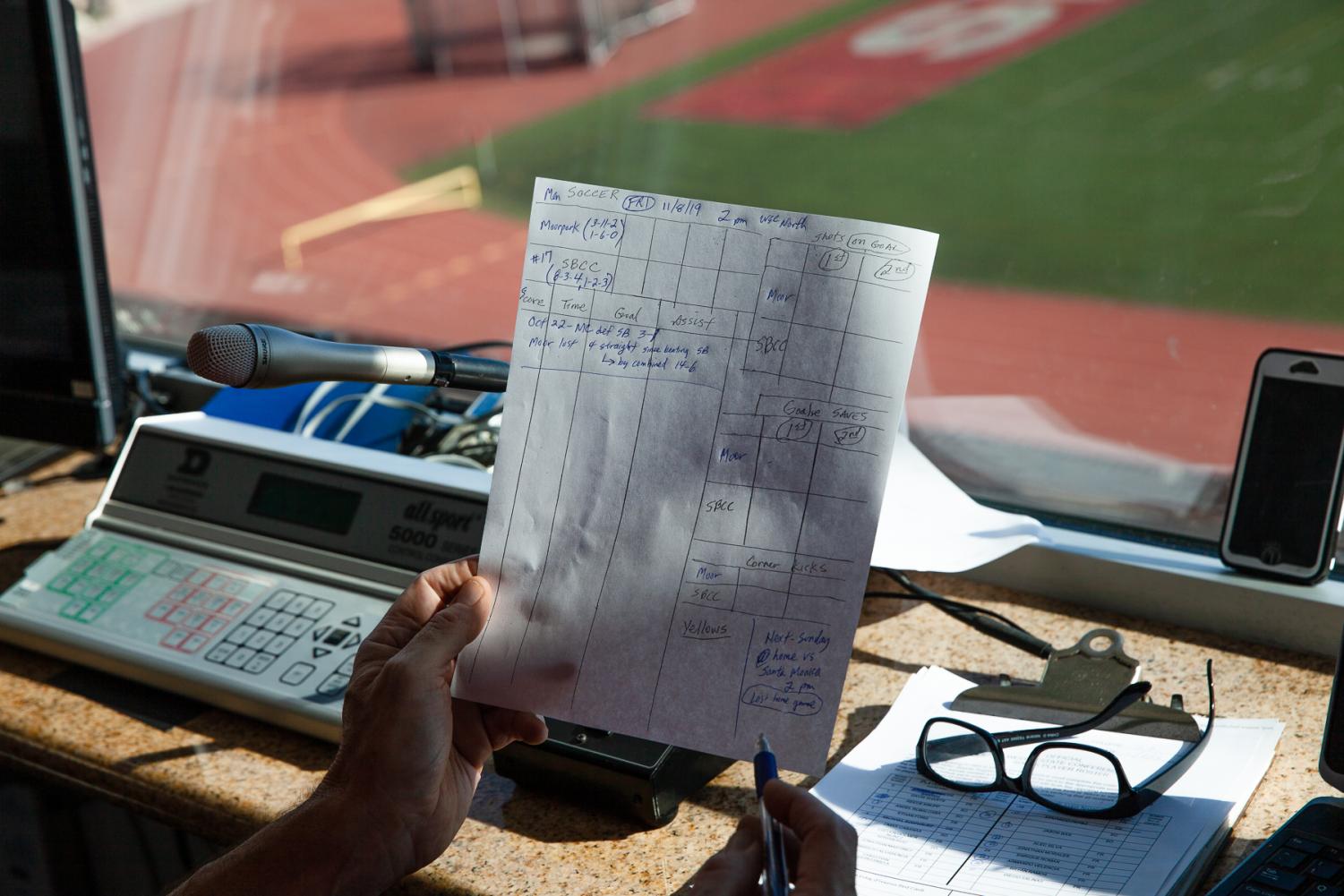 Loveton is technically a part-time employee for the college, but he regularly does the work of multiple people.
Sandrine Krul, head coach of the women's basketball team at City College describes Loveton has having "the mental toughness that we all aspire to have." 
Loveton, who had type two diabetes for most of his life, had drastically changed his lifestyle months before he was diagnosed.
"[I was] not paying attention to what I was eating," he said.
He cut out soda, high-fat food and alcohol from his diet and replaced it with fruits, veggies and lean meat.
Loveton lost 80 pounds in seven months thanks in part to a book called "The Fast Diet."
The diet encourages people to adopt intermittent fasting techniques, where two days out of each week you would restrict your food intake to around 500-600 calories per day.
"I try to read labels at the grocery store," he said. 
Though his schedule is packed with games, Loveton has made healthy eating and regular exercise a priority, including going on walks along the shoreline and the UCSB campus. 
Loveton, now 61, has been battling cancer for nearly two years but hopes that his most recent scans show little to no remnants of cancerous tissue. 
He has long been revered by his peers, and Loveton's work is what keeps him moving and happy. 
"He is not happy until everything is perfect but that's why he has the reputation that he does," said Constantino. 
At the end of the day, Santa Barbara and sports are what matter to Loveton, and not even cancer can knock him off his game.
One day in 1996, Loveton was covering football at City College. The Vaqueros were in a tight battle with No. 4 LA Valley College. Ryan Capretta and J.T Stone, now the Dons' football head coach at Santa Barbara High, led the team. After being down in the fourth quarter, the Vaqueros scored two touchdowns in the last few minutes of the game and won on a hail mary pass.
The next day, "HAIL YES" lit up the front page. 
Because of the nature of City College, Loveton has seen a lot of athletes come and go, but he has found a home with the Vaqueros and in the press box.