SBCC beats Citrus 3-0 in penalty-plagued match Tuesday at home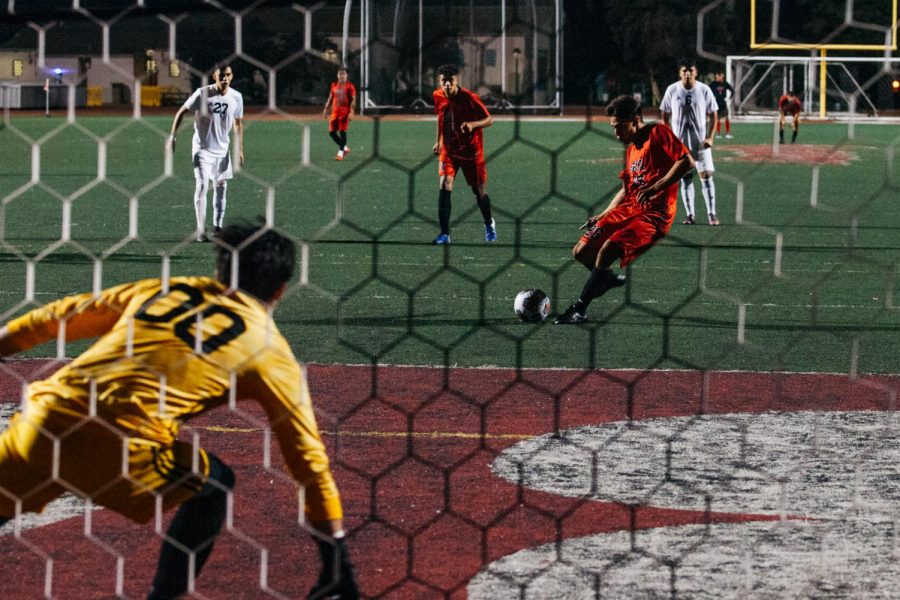 The City College Men's Soccer team beat the Citrus College Owls on Tuesday night 3-0 behind two successful penalty kicks from sophomore midfielder, Saul Sosa. 
"I just want a clear head," Sosa said when asked what he thinks about before a shot. "I like to spin the ball and then place it in the top or bottom corner." 
In the third minute, the Vaqueros were awarded a penalty kick after freshman forward Fernando Ochoa was tackled in the box. 
Sosa stepped up and scored his first goal of the night. 
Almost an hour into the game, the Vaqueros were awarded another penalty kick, this time after freshman forward Christopher Robinson was tackled in the box. 
Sosa stepped up and buried the shot for his second goal of the night. 
Freshman defender Jonas Romero was the other goal scorer on the night. 
He found the back of the net off a cross by Ochoa in first-half stoppage time to put City College up 2-0 going into the break. 
Sophomore goalkeeper Patrick Mahon had a clean sheet his first start of the season after he missed the first part of the year with a broken hand. 
"Pat played well, he made a couple of good saves, and his distribution was good," Head Coach John Sisterson said. 
Mahon made a great save in the 29 minutes in after a break way left him one on one with an Owl forward but he dove to his left to block a shot and keep Citrus off the board. 
"I thought I had a good first game back and I'm excited to get going again." 
After Sosa's second penalty kick, the second half was relatively quiet for both sides. 
City College had the bulk of the possession in the second half and in the last 20 minutes things began to get rough. 
Both sides were called for fouls multiple times and Vaqueros captain Neil Gillies was given a yellow card after almost an hour and a half of gameplay. 
The Owls came into the game winless carrying a record of 0-9-2. 
The Vaqueros, on the other hand, came into the game on a 4-game win streak and boasted a record of  7-1-1. 
"I told our guys Citrus is going to want to beat someone, especially someone like us," Sisterson said after the game. "We should treat them with respect, and treat every game like a playoff game." 
The Vaqueros are currently ranked eighteenth in the state and have improved to 8-1-1 this season. 
"I was pleased with the performance overall and it's a win, another win, which is important," Sisterson said. 
The team will be off for a week before they take on Allan Hancock College at 7 p.m. on Tuesday, Oct. 15 at La Playa Stadium in the first game of  Western State Conference North play.