Strong offense leads SBCC to 3-1 victory over Bakersfield at home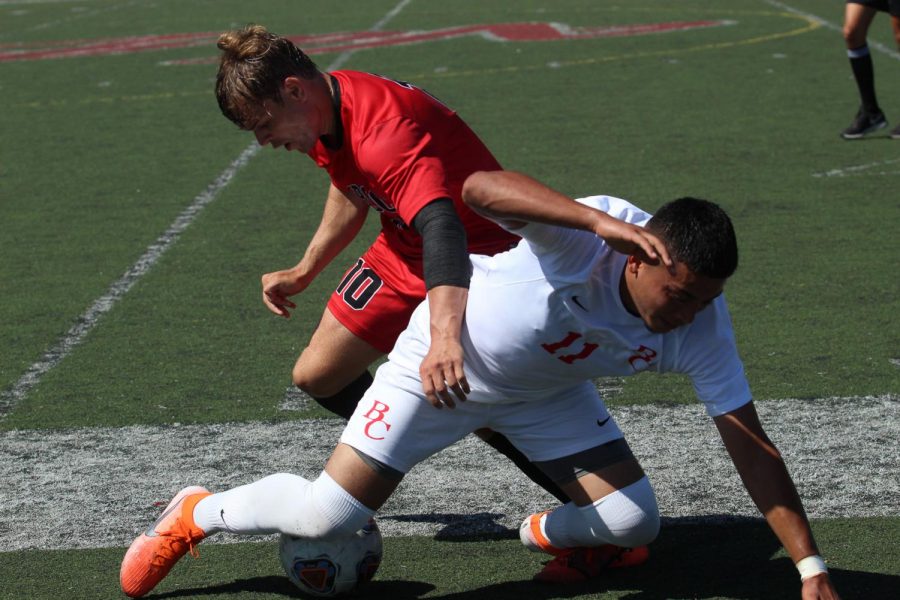 After not having played a match for nearly two weeks, the City College men's soccer team triumphed over the Bakersfield Renegades in a 3-1 win Friday afternoon at La Playa Stadium. 
The beaming mid-day sun did not slow down the Vaqueros. The team started strong scoring two goals within the first 25 minutes of the game and they never looked back. The first goal came from freshman forward Christopher Robinson, a standout from Sweden. Robinson was the hero in the team's first two games, scoring both Vaquero goals.  He received the ball out wide off a pass from sophomore Saul Sosa of San Marcos High School. Robinson cut in with his right foot and blasted the ball into the top right corner at the 15-minute mark of the game. 
"It feels good to get my third goal, but the important thing is to win and that's what we are happy about," said Robinson. 
City College controlled the ball with precision and enough time to build up good offensive plays.
The second goal came courtesy of freshman Jonas Romero of San Marcos High after he received a cross from defender JahMikaili Hutton, also a local player from Santa Barbara High. 
"It was good to get a goal, we came out really energetic our plan was to press high and keep the energy high," said Romero. "It was hot out there so our energy dipped a little in the second half but it was good to win."
Bakersfield scored their first goal of the game on the 27-minute mark after midfielder Angel Cervantes passed a City College defender and kicked the ball into the top left corner of the net. 
"I was a little bit disappointed after we conceded a sloppy goal, but we played very well at times," said head coach John Sisterson.
 "We spoke at halftime, sometimes we become our worst enemy when we start to smash the ball and we lower our standards. We fall into traps and slow the game down when all we have to do is keep our momentum, keep the ball on the floor and play hard," he said. 
The Vaqueros wasted no time extending the lead early in the second half when Roni Spektor, a freshman from Israel, headed in a goal off a free kick taken by fellow first-year Adam Chenoweth.
"It was an improvement from our past two games, we put three past them and that is exactly what we wanted," said Sisterson. "We struggled in the first two games to score goals and that's what we were looking for to get more than one on the board." 
After two away games against Glendale and Taft, City College returns home to face East Los Angeles College at 7 p.m. on Tuesday, Sept. 24 at La Playa Stadium.