SBCC football plans to raise the bar with 'locally grown' team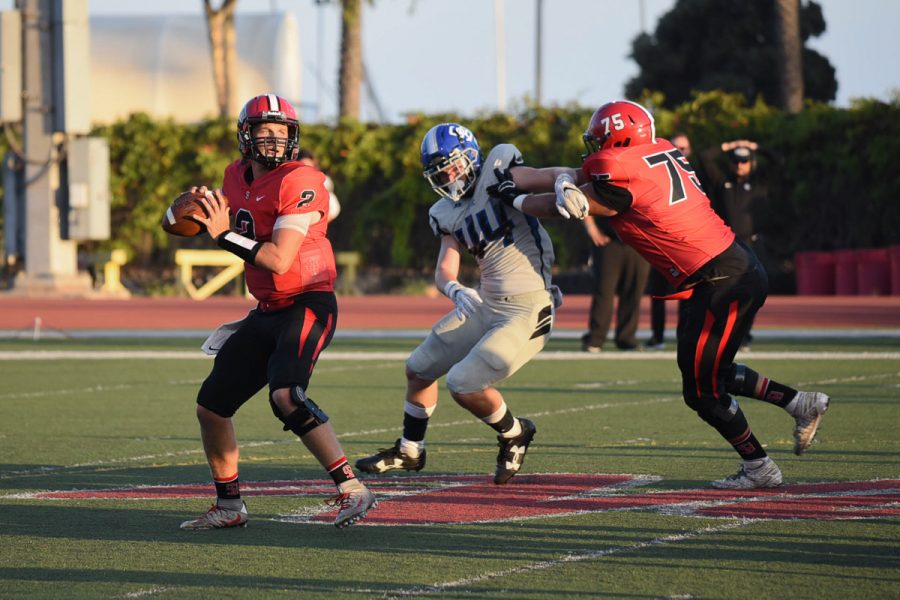 The Vaqueros football team used its locally grown talent to start its season off strong by rushing 197 yards, scoring five touchdowns, and earning a 45-0 season-opening shutout at Tartar Stadium against Compton, which raised their hopes for the second game against San Bernardino.
Unfortunately, their confidence was false as they lost the game, however they are looking forward to their next against College of the Canyons Saturday.
"We have strong leadership with some of the returners from last season," said Vaqueros football coach Craig Moropoulos. "Quarterback Jerry Hickson, Center Jake Tourtillotte are two of the leaders on offense. Lucas Olgiati, Safety and Danny Eckstrom, Defensive Lineman are two from the defense."
Standing at 6-foot-1-inch tall and 210 pounds, Vaquero Quarterback Gerald Hickson completed 58.6 percent of his passes for 1,058 yards last year and secured eight touchdowns.
"We have a lot of good sophomore leaders on both sides of the ball. If we as a team can stay healthy and make some adjustments I am confident in our players as well as coaches we can set ourselves up to be in a good position to win the conference at the end of the season," said Hickson.
Almost 30 percent of the team graduated from Santa Barbara or North County High Schools, giving the Vaqueros a local twist. On top of the homegrown team, the Vaqueros have 15 returning players including Hickson. According to Moropoulos, the team has more returners this year but a smaller roster.
Since there are less players, Moropoulos is confident that each player will get more coaching time for individual training, only making the team better.
"We just need to continue to get better every day," Moropoulos said. "And they are doing just that with diets and exercise on the daily."
The offensive line will be the main source of strength for team as Jake Tourtillotte, an all-APC player from Cabrillo High, returns for another season as center offense.
As a 6-foot-4, 300-pound Nathan Beveridge star player on Dos Pueblos High's CIF finalist team from last year, he will start as right tackle and 6-foot-4-inches, 295 pounds  Ramon Lazarit from Santa Ynez High will star as left tackle.
As for defense, there are four returning starters; safeties Lucas Olgiati and Nakota Shepard-Creer, defensive linebacker Andreas Buri, and defensive lineman Daniel Ekstrum.
Moropoulos said he needs to do a great job at coaching to ensure the team is the best it can be and is confident in his players and their abilities.