SBCC swim and dive finishes season ranked seventh in state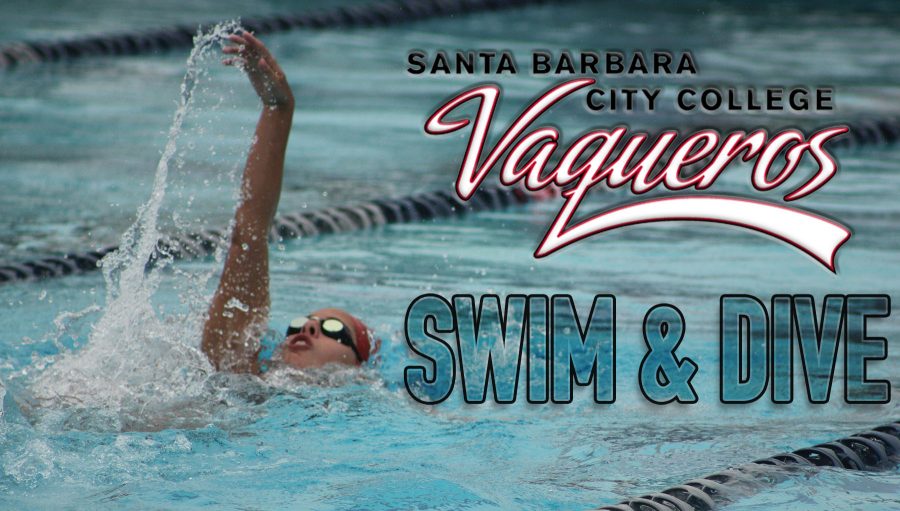 City College women's swim and dive team capped off its season finishing 7th in the state at the CCCAA Women's Swimming & Diving Championships at De Anza College.
The championships were a three day event that hosted 34 teams, and it was a record breaking few days for the Vaqueros.
On the first day of the tournament City College broke two records. Kelee Shimizu won the consolation race of the 500 freestyle and broke a school record. She finished ninth in the race with a time of 5:11.87. The 400 medley relay team took sixth and set another school record of 4:04.85. The Vaqueros finished 10th with 47 points on the first day.
On the second day of the tournament the Vaqueros had a stronger day and moved up to seventh in the state.
Shimizu placed fifth in the 200 and Sarah Parson placed fifth in the 100 breaststroke and missed the school record by 0.47 seconds that she set herself.
"It was a good day today, we had a great 800 free relay with a monster lead-off split by Sarah," said coach Chuckie Roth. "Meagan McKillican had a huge improvement in her 400 individual medley, scoring big points for the team. This group gives so much and really cares for each other. Tomorrow will be the last day of our season. This is an amazing group and I am so lucky I have one more year with most of them."
On the final day of the tournament, the Vaqueros had eight swimmers. Parsons took fourth in the 200 breast with a time of 2:26.18 and seventh in the 100 free at 54.31. Shimizu took fifth in the 1650 freestyle in 18:07.13.
"Our girls battled today," said Roth. "Kelee had an amazing 1650 and all the girls swam so much for the team. Our 400 free relay was second, which is our highest finish ever in a relay. It was a great season and the future looks bright."
The Vaqueros went 37-2 in the regular season, were 25-0 in conference meets, and have won 88 straight in WSC action. They won the conference for the fourth straight year and have placed fourth, fourth and seventh in the state the last three years.