SBCC softball goes down in doubleheader despite late rallies
SBCC softball was swept by Fullerton College in a doubleheader on Saturday afternoon at Pershing Park.
The Vaqueros got down early in both games, and made late seventh inning rallies in both. Unfortunately, they weren't able to complete the comebacks with Fullerton winning the first game 5-3 and the second game 4-2.
"We made some errors in both games that cost us some runs," said head coach Justine Bosio. "Overall they're a great team and really well coached and our girls competed with them and kept themselves in the game so can't really complain about that."
In the first game the Vaqueros were down 3-0 after the second inning. Their offense was struggling to get runners on base, and they finished the game with only six hits.
Fullerton added another two runs in the fifth inning to push the lead to 5-0. Then, in the bottom of the sixth inning the Vaqueros were able to get on the scoreboard when right fielder Chloe Wells(No.18) singled to left field and scored catcher Janet Salas (No.8).
In the seventh inning the Vaqueros only scored two more runs when left fielder Sloane Greeley (No.22) hit a homerun to left field that scored first baseman Emily Bland (No.21) and made the score 5-3. That was Greeley's first homerun of her career, and also the first homerun for the Vaqueros all season. Greeley hit her homerun in front of her parents who flew in from New York that morning.
"It's nice to get one for the team since we have gone all year without a homerun," Greeley said. "It was great to finally hit one especially in front of my parents and it felt really good."
In the second game Fullerton jumped out to a 2-0 lead in the top of the second inning, but the Vaqueros were able to get one back when second baseman Madison Foster (No. 3) hit a single up the middle to bring in third baseman Kayla Sanchez (No.25), making the score 2-1. Fullerton would add two more runs, and the Vaqueros found themselves down 4-1 going into the seventh inning.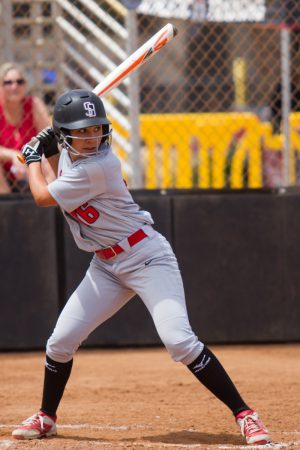 City College started off the seventh inning with two straight outs, but then were able to get two runners on base and scored when Sanchez hit a single to third base, and Wells came across to make the score 4-2. The Vaqueros weren't able to sustain the rally however, and ended up with the defeat.
City College outhit Fullerton 13-8, but left 13 runners on base. 
"We played strong and kept our energy high," said center fielder Jasmine Manson (No.16). "We played fearless and came up short on scoring runners but hit better and made adjustments when we needed to."
The Vaqueros fall to 15-18 on the season, with their next game Tuesday against Ventura College at Pershing Park. It will be sophomore day for the Vaqueros, and it is also the last game of the season.  
"It would be awesome to come out and get a win for our sophomores." Bosio said.