SBCC women's tennis finishes regular season strong
The SBCC women's tennis team finished off its regular season with a hard-earned victory on Tuesday, defeating the Bakersfield College Renegades 6-3 at Pershing Park.
They now enter the postseason with a record of 14-4 overall and 12-2 in conference, placing them second in the Western State Conference.
"Today I just had a mentality of finish the point, kill the shot" said sophomore Josephine Pulver. "A lot of them like to hit the ball really high in the air and take a long time, but I honestly don't have time for that. I have too much homework and midterms to get ready for."
Pulver lost only one of the twenty games she played during Tuesday's four hour match, and her nonchalance towards the idea of tough competition like the Renegades is what allows a team as small as hers to thrive in the WSC.
Pulver also said the team's last match with Bakersfield was a major stepping stone towards clutching her crucial singles victory.
"I've played [Sophia Castillo] before, so I knew her weaknesses. She always does dropshots. I remembered that from the last time, and I had to adjust my game a little."
Katelyn Peyvandi and Gabrielle Goss were the only two defeated in singles, but they played well together. The two paired up later on in doubles and avenged themselves with an 8-2 victory.
"In doubles I think that I played a lot more aggressively," said Goss. "As a pair, we had a lot more ball control and strategic placement."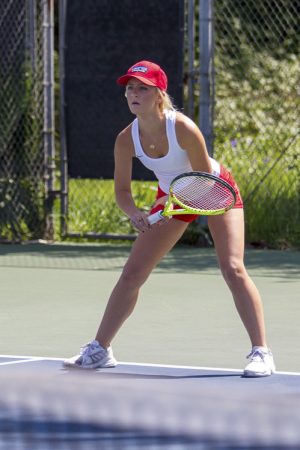 The two Vaqueros thrived off of center-court ball placement for their doubles match, causing their confused opponents to often run into each other.
Goss credits her singles opponent for her victory, but said she doesn't regret the way she played.
"She was just really consistent and kept lobbing," said Goss, "so had to figure out where to position myself for that."
Head coach Christina Klein said the team improved drastically over the course of the regular season, but the sophomore Goss stood out from the rest.
"Gabby showed a lot of improvement throughout the season," Klein said. "She is definitely a better player overall, and is more up to the challenge."
Klein said she is proud of everything the team has accomplished this year, largely due to the incredibly small size of the team.
"This is the smallest team I have ever had," she said. "There is a sense of responsibility that they have, as a small team. They know they can't mess up too much, even with grades."
Klein said that in the end, her athletes are playing for each other, and that is what has allowed them to come as far as they have.
City College will play singles in the WSC tournament this weekend, and will enter playoffs Tuesday, April 10 at Ventura College.