SBCC women's tennis takes care of Santa Monica in 8-1 route
The SBCC women's tennis team had yet another victory on Tuesday when they dominated Santa Monica College 8-1 at Pershing Park.
The Vaqueros aimed to maintain its composure in the afternoon heat throughout many lengthy rallies, sometimes resulting in screams of frustration from both teams.
"The game is more about mentality than it is about skill, like 60 to 40," freshman Katelyn Peyvandi said. "You just have to stay focused and not let the bad genie get in your head. It's just this genie that gets into your head when you're ready to serve, and it will make you miss every time."
The "bad genie" reference seems to be common amongst the team. Sophomore Josephine Pulver said that your mental state is just as important as your physical state, and that the "genie" can affect that mentality.
Despite mental distractions like this, the Vaqueros kept their composure throughout the day, which Peyvandi said is one of the team's main focuses.
Although she was the only player to lose her singles match today, Peyvandi continued to fight on in doubles.
A few simple adjustments early on in their doubles match guaranteed Peyvandi and Pulver's victory against Santa Monica's Mina Girit and Susan Talreja.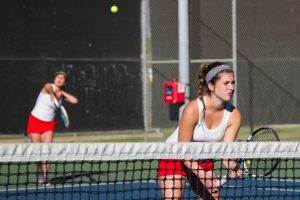 The two Vaqueros were always one step ahead of their opponent, with clever footwork and a sense of court-awareness that appeared effortless. In the first set, Talreja began with a successful lob over Pulver, which Peyvandi was unable to save. The two immediately noted their mistake, and swapped their frontcourt and backcourt roles.
"We immediately realized that they wanted to lob us at first, so we switched spots when we needed to and stopped it," said Peyvandi.
It was at times like these that the two appeared to share one brain, instinctively repositioning themselves to gain the advantage.
Although head coach Christina Klein was happy to end the day with an 8-1 victory, she says that her players still need to step up the intensity, and that the team's tendency to get relaxed for weaker players is worrisome.
"They knew what to expect, so they let their guard down a bit," said Klein. "They will have a tougher opponent on Thursday, so they are going to need more intensity, which they know."
The Vaqueros improve to 9-2 on the season with the win and Santa Monica drops to 2-6.
City College's next match is at 2 p.m. against third-place Ventura College this Thursday in Ventura. They will next play at home at 2:30 p.m on Friday, March 9 against Orange Coast College.