SBCC baseball wins 11-8 against LA Pierce in exciting comeback
SBCC baseball won 11-8 in an exciting comeback against LA Pierce on Saturday at Pershing Park.
The game initially appeared to be a blowout loss for the Vaqueros, but a huge offensive explosion lifted the team out of a 7-0 deficit in the fourth inning. Relief pitching came out huge for the Vaqueros as well, holding Pierce to one run earned in the final five innings.
"We honestly weren't too nervous," said pitcher Jake Holton (No. 29). "We knew we could get some runs off these guys. We were calm and cool and were able to strike back."
The Vaqueros found themselves down 4-0 entering the fourth inning. After recording the first out in the inning, pitcher Joe Kinsky (No. 44) hit the next two batters. Then LA Pierce's Michael Tillman homered to center field which gave them a 7-0 lead.
It didn't take the the Vaqueros long to answer the home run.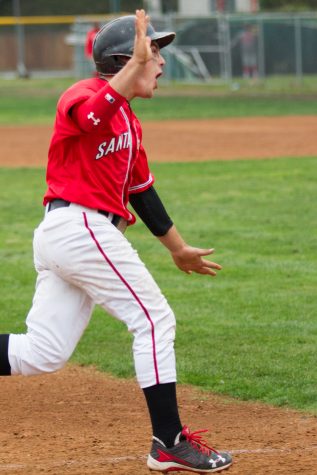 Outfielder John Jensen (No. 13) got the scoring started for the Vaqueros with an RBI double to deep center field in the fourth inning. Phil Quartararo (No. 26) followed with another double which hopped the fence and drove in Jensen. The Vaqueros scored two more runs in the inning to cut the score to 7-4.
"It was still early in the game," said head coach Jeff Walker. "We did a good job picking each other up. We've got a good team and they punched back."
In the sixth inning, a sacrifice fly put another run on the board for the Vaqueros. Infielder Patrick Caulfield (No. 9) doubled right down the third base line to score a run in the next at-bat. Then freshman outfielder Elijah Hodges (No. 7) tied the game with a single with two outs.
"We've been talking about how we are a family," said Jensen. "We wanted to be more of a family and finish games out. We usually have really good energy in the beginning of games but we need to finish strong. Today we got on the right track and are looking good going forward."
In the seventh inning, Jensen hit a two run homer and Mitchell Sancier hit an RBI double to put the Vaqueros up 10-7.  
"I just got a good pitch to hit and put a good swing on it," said Jensen. "I've been struggling as of late and I'm trying to get my swing back so that was good for my confidence. I just want to help the team win."
The homer was a no-doubter that energized the team and pushed them towards a win.
"Once I saw it in the air I knew it was gone and I got excited running around the bases," laughed Jensen. "I looked at my teammates and saw them fired up. That's the best feeling."
"Win or lose I think this was our best competitive effort this season," said Walker. "We got down 7-0 but fought back and showed we have heart."
Jensen, who finished 2-5 with the home run and 3 RBIs said he believes the team grew closer from the adversity.
"We swung the bats really well, said Jensen. "We continued to battle and I felt we got really close as a team. Coach Walker put energy in us and we never gave up."
On the pitching side, Steven Elliot (No. 24), Yeager George (No. 35) and Holton combined for 5.2 innings pitched, 2 hits allowed, and 9 strikeouts while giving up no earned runs. Holton also hit 2-3 and scored 3 runs.
The Vaqueros improve to 5-4 with the win and LA Pierce drops to 2-6. The team's next game is on Tuesday at East Los Angeles.
"This win is really big, said Holton. "After coming off of a tough loss yesterday it's big momentum for us and hopefully we can build off of it on Tuesday."