Shane Pitcock discusses being goalie of SBCC men's soccer team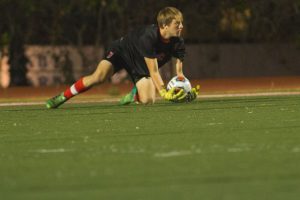 Shane Pitcock never thought he would step between the crossbars as a goalie again after high school as he had lost his passion for the sport he's loved since the age of eight.
Now, two years later,  he has gained back that passion and is the leader of an undefeated City College men's soccer team.
"I took a year off of college and I worked, and my dad had even tried to bring me down here to play but I just didn't want to," said Pitcock. "After a year I decided I missed it and he had told me about this, so I just came down here and figured I'd give it a shot.
Pitcock played at Bishop O'Dowd High School, where he was a state champion as a sophomore and personally received all conference and state honors his junior and senior year.
Pitcock used his offseason to fix the mistakes he made as a freshman and to get into better physical shape.
"I know he dedicated last spring, our offseason, with his footwork and getting in better shape. It's very noticeable when we play," said sophomore teammate Jessie Jimenez.
Pitcock said it was hard getting back into the swing of things after taking time off. He struggled with technique and made a lot of mistakes that he knew he shouldn't have made as a freshman.
"This year I feel I'm a lot more relaxed and more calm in everything that I do."
Pitcock has 63 saves this season and has produced seven shutouts.
Pitcock has become a leader of this team. He pushes all of his teammates to play at their full potential.
"He's a positive influence to the team," said Jimenez. "He influences others to be better and to push themselves."
Pitcock will continue his soccer career after this season as he currently talking to multiple programs.
Pitcock doesn't care if the school is division one or two. He just wants to continue playing at a high level anywhere he goes and to also do well in the classroom.
"School is very important so the next school I choose to play at will be a school where I can succeed on the field and off of it."
Pitcock is mainly focusing on winning with City College. He wants to advance deep into the playoffs and make this an unforgettable season.
"What I've noticed about Shane compared to last year is that he's more determined to win. He's hungry," said sophomore forward Victor Chavez.
Pitcock is a sociology major at City College and is interested in pursuing a career as a social worker because he enjoys helping others.
"I've always wanted to try and help other people. My best friend's mom is a social worker and I've talked to her about that for years," Pitcock said. "That's something I am very interested in doing so I might pursue that after."
"He is always there to help you out and be there for you whether it's on the field or not," said Chavez.
Pitcock's father has always been in support of his son's soccer career and has always been willing to pay for club soccer, tournaments and for Pitcock to attend school and play in Santa Barbara.
He has been helping Pitcock improve his game ever since he began playing sports.
"He is the one that calls me after the games and talks me through what went wrong and what he thinks went wrong," Pitcock said. "It always helps having someone you can talk to on the outside."
Men's soccer had its first undefeated season in 24 years and are Western State Conference champions.
Pitcock and the rest of the Vaqueros will host a home playoff game at 4 p.m. on Saturday, Nov. 18, against San Bernardino Valley College.