SBCC holds clothing drive to help keep homeless veterans warm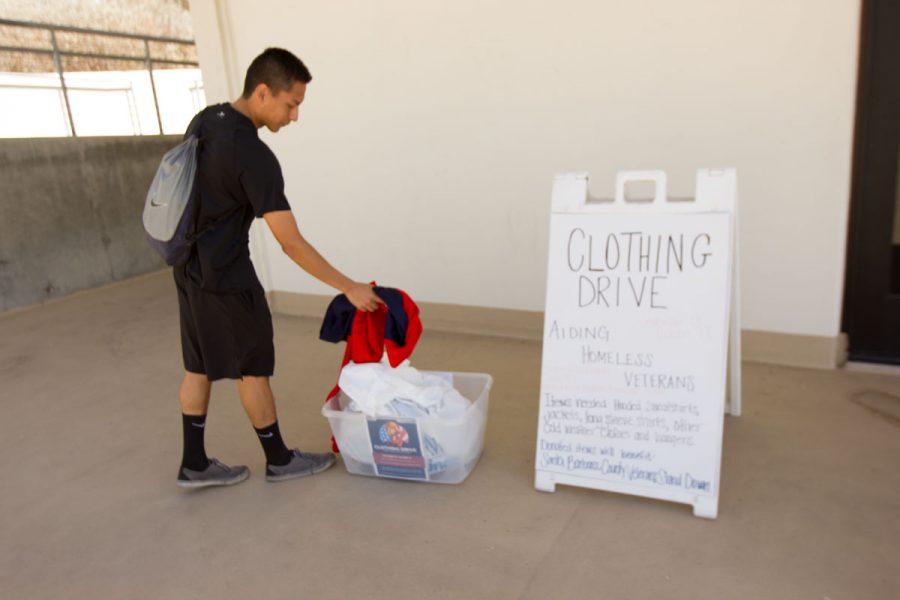 The City College athletic department is partnering with The Santa Barbara County Veterans Stand Down in a clothing drive designed to help homeless veterans in the community.
The drive will end Saturday, Oct. 14, with final donations being collected at a City College home football game. There is a donation bin outside the Physical Education Building where dropoffs will be available from 9 a.m. to 4 p.m. until Friday, Oct.13.
The drive began when newly appointed City College athletic director Rocco Constantino came into contact with the Stand Down Coordinator Sandy Agalos.
"When I took the job here one of my goals was to get involved in the community, and my family comes from a military background," said Constantino.
Veterans Stand Down helps veterans with clothing, haircuts, counseling, medical screening and other types of services.
The supervisor of this organization is Steve Lavagnino.
"A lot of people say this country is divided and in some cases it is, but everybody wants to help our veterans," said Lavagnino. 'We are all pulling the same rope."
City College is looking to help with the organization's need for winter clothes for its upcoming event on Oct. 21. The clothing City College is looking for to be donated are long sleeve shirts, jackets, sweatshirts and other types of warm clothes.
The event will be from 9 a.m. to 1 p.m. at the Santa Maria Fairpark. It will look to provide these veterans with food, clothing and other resources.
There will be shuttles around Santa Barbara County to help transport the veterans and others to the event. There are countless volunteers and donors to this cause.
"We have close to 600 volunteers on that day to help hand out what people have donated to our veterans," said Lavagnino.
The Veterans Stand Down and Constantino believe we owe everything to these veterans.  He feels it is time for the college to do its part to give back to these veterans for all of their sacrifices.
"I feel it's just a small way to repay them back for the sacrifices they've made, for putting their lives on the line to protect us," said Constantino. "To be able to help them and show them gratitude for what they did, to me it's a no brainer to get involved.
"These are people who volunteered to join the military to protect people like me and you, and protect our country. Now it's come a time where they need our help back."